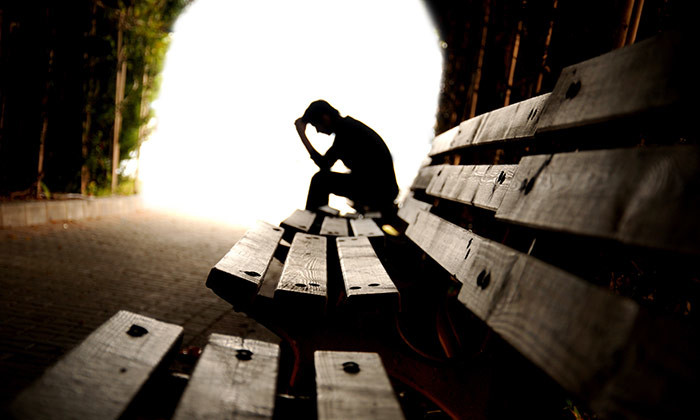 Before his passing, Lehi, a loving parent in the Book of Mormon warned his son Jacob, "Wherefore, men are free accordingly to the flesh…  And they are free to choose liberty and eternal life…or to choose captivity and death" (2 Nep 2:27).  Central to our experience in mortality was to face, "opposition in all things" (2 Nep 2:11).  We knew in the premortal world we would have experiences in this life that would cause us to struggle and to sometimes suffer, and yet more than anything, we yearned to come here.

While in Liberty Jail, in such deplorable conditions in the winter of 1839, Joseph Smith cried out to the Lord,
"Where art thou?  And where is the pavilion that covereth thy hiding place?" D&C 121:1
The Savior gave counsel and comfort to the Prophet Joseph by explaining the beneficial effects and blessings that follow, if we bear our burdens well.  He said,
"All these things shall give thee experience, and shall be for thy good" (D&C 122:7).  He continued, "My son, peace be unto thy soul; thine adversity and thine afflictions shall be but a small moment; And then, if thou endure it well, God shall exalt thee on high; thou shalt triumph over all thy foes." D&C 121:7-8
We observe human struggle throughout the old testament.  The Prophet Moses suffered seemingly endless travails while leading the Children of Israel through the wilderness.  Who can forget Job and his struggle of losing his health, his means and the love and support of his family and friends.
Enoch, facing a daunting request of the Lord to preach repentance to a wicked people, questioned his own abilities asking, "Why is it that I have found favor in thy sight, and am but a lad, and all the people hate me; for I am slow of speech; wherefore am I thy servant?" (Moses 6:31).  Knowing he would face intense struggle and feelings of inadequacy, Enoch pleaded with the Lord as if to say, "Why me?"
Nephi in the Book of Mormon was no stranger to struggle.  He experienced the difficulties of navigating his family in an unknown wilderness, hunting for food with the loss of his bow, and of course, the task of building a ship to sail to a new world, all while listening to doubting and murmuring brothers.
In our day, we recall the challenges of the early pioneers, being expelled from their homes in Nauvoo, Illinois and driven west.  They experienced difficult circumstances and struggles of every kind.
We might ask ourselves, "Why does life have to be so hard?"
We might cry out like Joseph Smith and plead, "Where art thou?"
We might feel like Enoch and say, "Why me?"
Earthly challenges and struggle are inherent to our sojourn on this earth.  We may experience financial hardship with more month than money or crushing debt limiting our choices.  We may suffer from a debilitating illness, sickness or disease.  We may lack harmony or a measure of kindness, love or charity in our relational lives.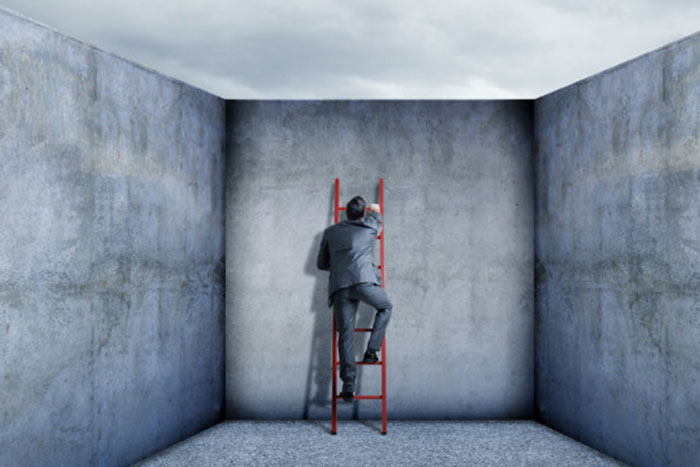 Sometimes our struggles are amplified due to the choices of others or circumstances beyond our control.  But often however, our struggles are the result of our own decisions and choices or the misapplication of our own agency.
Notwithstanding, we must understand that struggle is an essential element of our Heavenly Father's plan.  Adversity and opposition in all things is essential to our experience here.  But, how we respond to our challenges helps define who we are.  Sometimes, however, in the midst of our challenges we can become stuck or paralyzed.  During these times our progress ceases and we can become immobilized not knowing how or what to do.
Let me tell you a story.
Years ago, we moved to our current home that sits on an acre of ground.  There were big trees throughout the property; ash, fruitless mulberry and huge silk oaks.  Our oldest son Adam, was 14 years old at the time.  Just a few days after we moved in, I was trying to find him, but he was nowhere to be found.  I started asking around, "Have you seen Adam?"  I began casually walking the property calling out, "Adam, Adam!"  I traveled from the front to the back yard, and back again, but couldn't find him.
Over time, I became concerned.  My voice got louder, "Adam, where are you?"  Finally, while back in the front yard, I heard this faint voice, "I am up here."  "Where?", I responded.  "Up here," he called back.  Looking up I saw him lodged into the top of a large Ash tree some 50 feet or more in the air.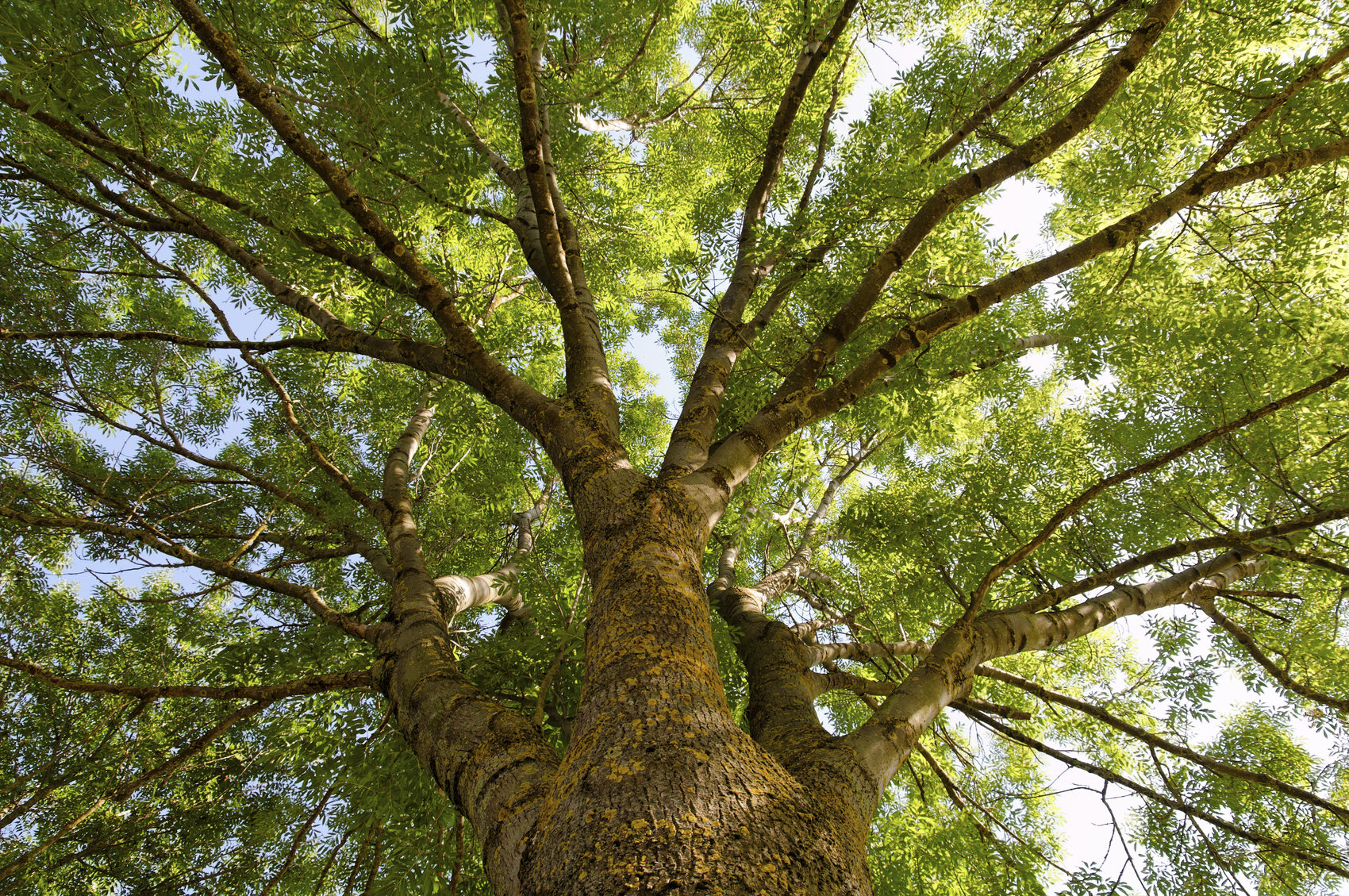 Our previous home was on a smaller city-sized lot, without large trees.  This larger piece of property was ripe with many distractions.  This tree had become a magnet to a young adventurous teenager.
Calling up to him I said, "Adam, I have been looking all over for you. Come down."  Silence.  I asked again more insistently, "Adam, come down!"  Finally, in a soft and rather embarrassing reply, he said, "I can't.  I'm stuck!"
I could tell from his voice that not only was he stuck, but a bit scared.  Living on a city lot, he'd never climbed trees like this before.  In short, this was unfamiliar territory for him and there he was…stuck in the top of that tree.  Later I found he had been there for quite sometime before he became embarrassed enough to answer my calls.
Finally, after communicating back and forth for a while, we devised a plan.  With Adam facing the tree and holding onto the trunk, I began to guide his feet verbally down the tree, one limb and branch at a time.  You see, I had a perspective he did not have.  Standing at the bottom of the tree I could see what he needed to do to decend.  I could see what he could not.  Very slowly, working together, we communcated back and forth.  Step by step and very slowly he made his way down.
Like Adam in that tree, do we sometimes get stuck in our lives? 
We get ourselves into situations that we can't seem to get out of?  We may even feel a bit embarrassed, but we are stuck nonetheless.
Stuck with parenting a child
Stuck in a relationship problem or interpersonal conflicts
Stuck with a family issue, a financial dilemma, a career or health crisis
Stuck with a lack of motivation or purpose
Or, stuck between knowing what "we should do" versus "actually doing it"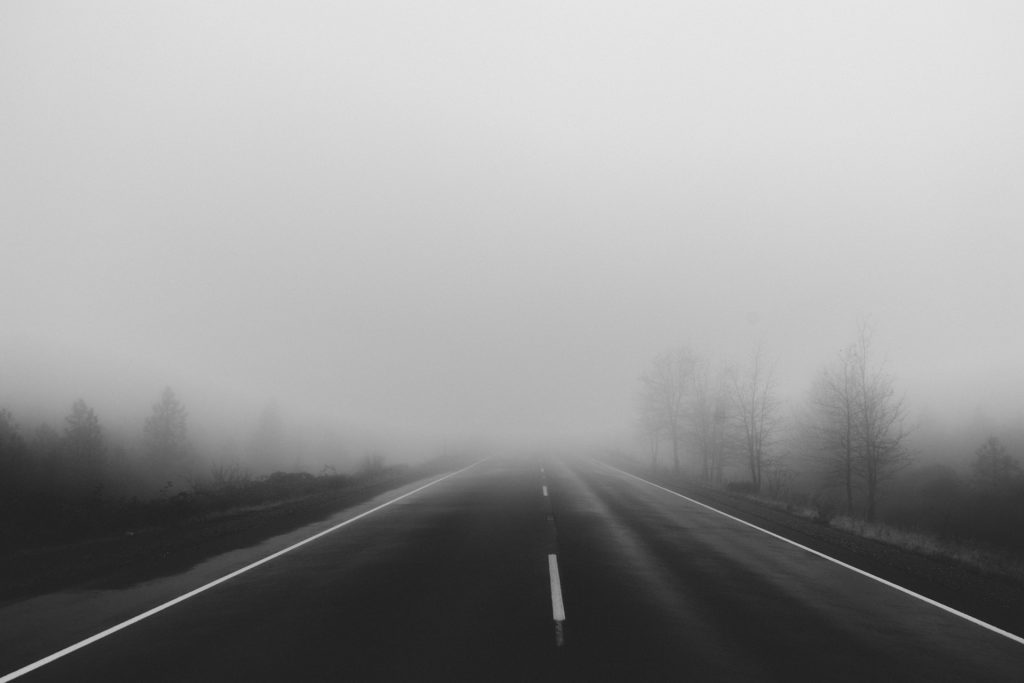 Life can present us with all kinds of twists and turns, and yet we know this is part of our Heavenly Fathers plan.  We must face opposition and trials, for that is how we grow and gain experinece.  Yet, how can we extricate ourselves from these situations and progress again?  May I suggest four simple steps as we exercise ouro agency
Step One:  Put God first by establishing Godly priorities
To begin, we must set our compass correctly.  Ask yourself, what's most important in your life?   What do you put first?  What is your true north?  Consider your personal priorities and where you invest your time and energy. Remember, Joshua's famous declaration, "But, as for me in my house, we will serve the Lord." Joshua 24:15
The Savior declared, in the Sermon on the Mount, "Lay not up for yourselves treasures upon earth, where moth and rust doth corrupt, and where thieves break through and steal, but lay up for yourselves treasures in heaven…for where your treasure is, there will your heart be also."  Matthew 6:19-21
We can find strength and clarity, to fight the struggles of mortality, if we set our compass toward our Heavenly Home.  Our Heavenly Father desires to assist us and will help us along our way.  How often has he reached out to us beckoning, "Come unto me", or "Follow me", or "Draw near unto me."  And then promising, "and I will give you rest" or "I will draw near unto you." or "my grace shall be with you."
Setting our sights in this direction requires that we exercise faith in the Lord Jesus Christ.
Step Two: Determine if there is a difference between your intentions and reality
It's easy to verbally declare that one has Godly priorities, but ask yourself, with all humility and without pride, "Is there a difference between my intentions and my actions?"  Of course, this is at the heart of hypocrisy.  We may say God is first in our lives, but when we examine our hearts, if we are honest with ourselves, we admit that there may be dissonance between us and our creator.
In my professional life running a wealth management practice, we frequently conduct something called a "Variance Analysis."  Technically, a Variance Analysis is the quantitative investigation of the difference between actual and planned behavior.
In January, after a busy holiday season, you may say to your spouse, "We said we were going to spend $1,000 on Christmas, how did we do?"  The difference between what you spent and what you agreed to spend is the variance.
This is a simple A minus B exercise.  Engage this behavioral exercise to determine the difference between your intentions and your reality.  So, ask yourself, "Is there a variance or a gap between my highest priorities and my behavior?"
We may admit or even say that God is most important to us, but when we examine our lives we may recognize that our behaviors or activities may not be aligned with our Heavenly Father's will.  Of course, the natural man is alive and well, but we must work to close this gap in all we do.
We must be honest and ask ourselves some tough questions.  This is what Alma the Younger was doing to members of the church in Zarahemla in 83BC when he asked 42 direct questions in Alma chapter five regarding their behavior and the condition of their hearts.  Alma was in effect, "stirring them up in remembrance of the oath which they had made." Mosiah 6:3
The prophet Alma was forcing an introspective experience when he asked, "if ye have experienced a change of heart, and if ye have felt to sing the song of redeeming love, I would ask, can ye feel so now?"  Of course, they had experienced a change of heart some 40 years earlier, when many of them sat at the feet of King Benjamin.  They had made a covenant to do good continually, but their Godly behavior over the years had drifted.
We must ask ourselves,
"Is the course of life I am pursing consistent with what I value most?"
To control the events in our lives we need to determine what's most important to us. These are our governing values which lay at the core of who we are.
Governing values like honesty, integrity, humility, love, and belief in a higher power.  These aims are at the foundation of personal success and true fulfillment in our lives.  From our values come our long-term and then our short-term goals and then our daily tasks like the building blocks of a pyramid reaching to the sky.
When our governing values, our highest aspirations, are consistent with our daily actions we have a credible claim on inner peace.  When there is vertically alignment we can feel the love of the Savior and His confirmation that the course of life we are pursuing is consistent with His will.  This does not mean we will not have struggles, challenges or difficulties.  But when we are aligned toward His will, and demonstrate the principles of righteousness, we can engage the powers of heaven.
As we engage in this introspective experiment and find those unfavorable variances, let us recall that the first step of repentance is recognition. This is where the Savior's atonement can begin to work in our lives, but only if we humbly recognize we are falling short.
Step Three:  Re-align your life with what matters most
Fundamental to getting back on track, fortifying our lives with the internal strength to fight the challenges of the day, is the engagement of important daily spiritual habits.  In the busyness of contemporary life, it's easy to neglect these fundamentals.  In the micro they may seem insignificant, but drop by drop over time, they increase our resolve, strength and confidence to make the necessary changes in our lives.  For example, personal prayer & scripture study, pondering spiritual things, focusing on Sabbath Day observance and deepening our experience with the sacrament are all essential to re-alignment and renewal.
These daily spiritual habits provide the strength and insight needed to conquer the struggles of life!
Look at your daily routines and consider if you are neglecting these important habits.  This is the challenge of living in a world of distractions.  Typically, these important habits can get pushed aside as we become confused in a sea of the "good, better or best."  Are outside activities, interests or hobbies getting in our way?  Many years ago, early in my career out of college, I was playing on three softball teams.  For me, I was completely out of balance.  My wife Susan has often said, "Too much of a good thing is not a good thing."  Oh, how I have found this to be true.
What about the level of screen time in our lives?  How much time do you spend on your electronic devices or in front of a television, laptop or some other screen?  For many, their preoccupation with social media alone breaks the bank!  Maybe it's time for a time out!  We recently cut the cord on our cable/satellite service and it has made all the difference.  I highly recommend it!
What about work or career pursuits?  Several years ago, I was serving on three different boards ranging of civic, industry or non-profit organizations.  I found myself completely overwhelmed.  It took me two years to unwind some of these commitments as I worked toward realignment.
By making some simple shifts and realigning our priorities, we can bring our spiritual lives into focus enabling us to successfully tackle the challenges of the day.  This effort is central to the principle of repentance and subsequent change in our lives.  This focus of re-alignment is at the heart of the atonement of Jesus Christ. It's at the heart of the Savior's love for us.  It's at the heart of Sabbath Day observance.  It's at the heart of our weekly experience with His Holy Sacrament.
This focus is essential to getting back on track, if you find yourself stuck.
Step Four:  Look to the Savior and Live!
Remember the story of my son Adam being stuck in that large Ash tree?  He needed someone to talk him down. In his case, as an inexperienced climber, he needed someone who had a perspective other than his own.  He needed someone who could communicate where to put his hands and feet to safely descend.  He couldn't see where to put his next step, so he needed to trust someone else, step by step.  On that day, I provided the guidance he needed.
Our lives are no different.  We often need a eternal perspective other than our own to free ourselves from the difficult situations, challenges or struggles in life.
The Savior Jesus Christ fills this role:
He is the example we need to re-direct and re-center our lives.
He who has suffered all.
He who has "born our griefs and carried our sorrows." Isaiah 53:4
He who has experienced all things.
He who has atoned for the sins of the world.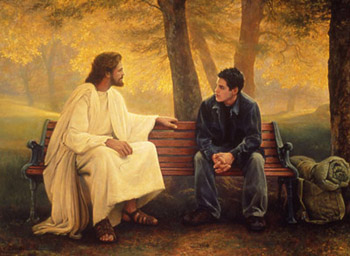 The Prophet Alma reminded his son Helaman regarding that ball of curious workmanship, even the Liahona, which lead his ancestors through the wilderness to the promised land.  If Lehi's family would look with faith and be diligent the Liahona would, "point the way they should go."  But if they, "were slothful and forgot to exercise faith and diligence" then those marvelous works ceased and they would not progress on their journey.  The scriptures tell us that because of their disobedience, they did not travel a direct course and were afflicted with hunger and thirst.
Alma later asked, "Is there not a type in this thing?… For just as surely as the director did bring our fathers, to the promised land, shall the words of Christ, if we follow their course… shall carry us beyond to a far better land of promise."  In his final counsel, he instructed his son, "see that ye look to God and live."  Alma 37:38-47
If we will center our lives in Christ and look to Him, we can conquer the struggles of the day, no matter their degree.  This does not mean life will be blissful, for that is not the purpose of life.  But we can know, that the course we are pursuing is consistent with the Father's will.  Our confidence can wax strong in the presence of God and the Holy Ghost can be our constant companion helping us navigate difficult terrain and circumstances.
The Savior calls to us "Come unto me all ye that labor and are heavy laden and I will give you rest."  I bear my witness that we can overcome and feel His rest.  I testify that we can have our burdens eased as look to Him.
We can get unstuck from the trials, struggles and challenges of life, if we will set Godly priorities, identify areas of our lives where we need to change and then re-align our lives with what matters most.  As we do this and look to the Savior we can live more abundantly and feel his peace.  For this I am certain, in the name of Jesus Christ.  Amen.
This article is adapted from an address given by Mark E. McKell at a Riverside Stake Conference of The Church of Jesus Christ of Latter-Day Saints on March 12, 2017 in Riverside, CA.