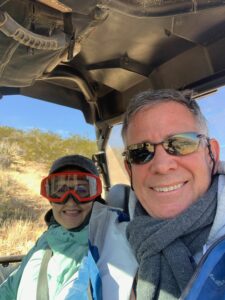 Hello Family & Friends,
We hope this post finds you in good spirits this time of year.  2022 has been a year of new beginnings for us.  A new home, community and climate, but most of all we have experienced a wealth of new connections and friends.  Some say, "Why St. George, UT?"  Of course, St. George has exploded over the years; the growth has been amazing.  We remember it being a sleepy little town back in the 1970's, but not any more.  Despite the growth, St. George still has that quaint small town feel.
This area has been a playground for our family for decades.  With five national parks within only a few miles it is a recreation haven for many travelers.  Lake Powell, Lake Mead, Zion's National Park, Bryce Canyon, Brian Head and Snow Canyon are all within a few miles of our home.  The valley with its beautiful vistas, sunsets, incredible bike trails, cultural events at Tuacahn (Center for the Arts) along with a very friendly community, has exceeded our expectations.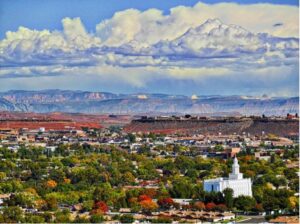 As for our business life, we are not retiring any time soon.  We love what we do and are loving the contribution our team can have on other's lives.  Our world is experiencing significant turmoil and that impacts people's financial lives and decision making.  Our growing team at McKell Partners enjoys bringing financial peace to those we serve through education and holistic planning.  It's rewarding to work with Adam each day as the practice continues to grow.  His commitment to excellence is felt throughout the firm.
With our growth, we now have clients scattered across America.  Technology allows us to be almost be anywhere.  In a post Covid-19 environment more and more people are willing to connect digitally.  We have many clients in the immediate vicinity of our So Cal office that now would rather connect on Zoom than drive 20 minutes.  Can't say I blame them.
We scoot back to Riverside frequently each month to support our team.  Riverside is only a quick five hour drive.  We have found the wonder of Airbnb and are thankful for our Hyatt friends and family discount.  (Thanks Chandra!)  Having lived in Riverside for 37 years, we were pretty much on auto pilot, so this past year has been a new adventure.  To be honest, I feel more alive with all the new experiences.  It's fun!
Sand Hollow, a local reservoir 15 minutes from St. George that we love to frequent.
One of my biggest concerns about moving was would I find a classic car community in St. George?  California is a car enthusiast's haven, with about every contact or resource needed to work on that old jalopy.  What would I find in St. George?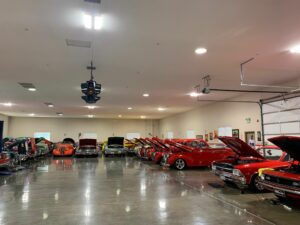 Early on I stumbled into the private car collection of Don Ipson (this is only a third of it). This connection has opened up a world of car contacts to me.  It's a collection of about 60 cars, mostly classic Chevrolets from the 50's and 60's.  I have met such wonderful people and helpful friends.  I had no idea the classic car scene was so big in St. G.  There are numerous collections like this one in the greater St. George area.  We have attended several car shows and cruise nights and even won an award for our 66′ Mustang in a recent show in Hurricane, UT.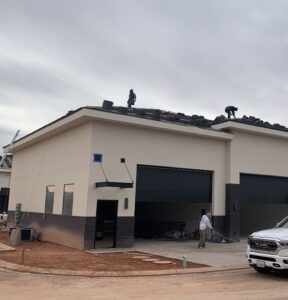 We are finishing the construction on what we are calling, "The Cave."  It's a fully self contained warehouse or shop (kitchen, bathroom, shower, mezzanine, etc.) for my classic cars, toys and occasional gatherings. It will even have a lift.  No more cold garage floor to lay on.  The upstairs will be a great place to root on the Cougars!  Soon we will escape from a storage unit that has  kept us captive all year. Yes!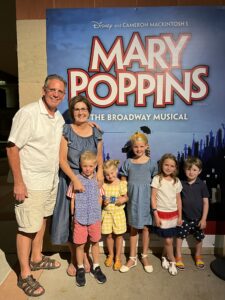 A recent grandkid trip to Tuacahn to see Mary Poppins! – Pictured are Ford, Rosie, Eleanor, Molly and Kage.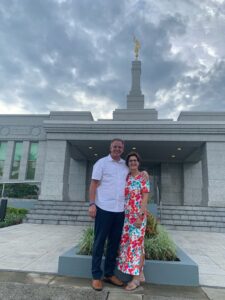 We recently returned from a two-week trip to Fiji and New Zealand.  We visited Wards (congregations) in both countries and were welcomed warmly by the local saints.  We attended the LDS temple in Suva, the capital of Fiji (pictured above).  We did a lot of fun activities in Fiji, but connecting with the locals at the temple and for their Sunday meetings was at the top.  Wonderful experience.  More on our trip later in this post.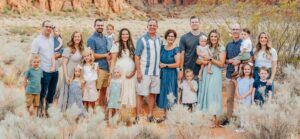 The family gathered in June for a McKell Family Reunion.  We rented some space at the Arcadia Resort in Santa Clara, UT and loved it.  By the way, great place for family gatherings!  Water sports at Sand Hollow and Gunlock reservoirs, tennis, golf, movies, hiking, biking, a show at Tuacahn and just hangin' out rounded out the fun.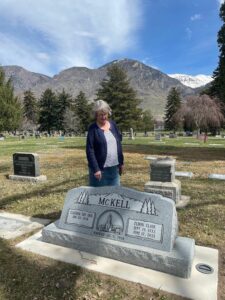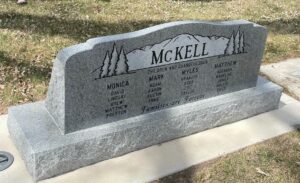 My father, Eldon Clair McKell passed on June 17, 2021.  It's been hard having him gone, but so grateful for his life and example. I am comforted by our Heavenly Father's Plan.  I know we will speak again.  It took a year to get the head stone finished and placed at the grave site in the Provo, City cemetery.  My mother (pictured), siblings and I designed the headstone. We wanted the grandkids names on the marker so they could feel the connection to their Grandparents.  Their children (our grandchildren) can now come and find their parents and learn more about their family history.  My Mom, Claudia Lee Ord McKell is doing well and still in the Provo home.  Of course, learning to live alone is not fun. My Mother at 86 has been speaking lately of the chapters in her life:
• The growing up chapter
• The young married chapter
• The raising children chapter
• The empty nester and retirement chapter
• The missionary service chapter
• And now with the passing of my father, her final chapter of being alone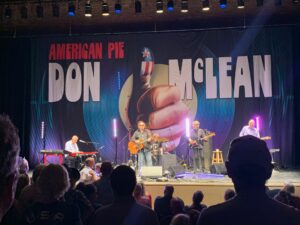 A couple weeks later we enjoyed a Don McLean concert in Grand Junction, Colorado.  In 1971, at 11 years old, the song American Pie was released.  That song sprung my early love for rock and roll.  Can't believe so many years have passed.  We had a great time and Don put on a great show.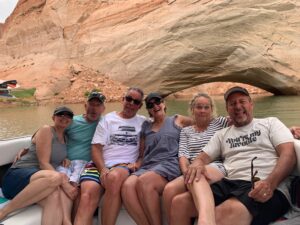 Summer is not complete without an escape to Lake Powell.  We hooked up with my brother Myles, Matt  and their wives Sue and Sherri.  Here we are being goofy! Great to be with my brothers.  Speaking of brothers, my brother Myles lives in St. George too.  I have seen him more this past year than in the last 10.  He and his wife Sue are amazing!  We love connecting with them often.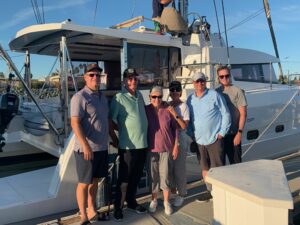 Susan's folks, Keith & Marilyn Allred celebrated their 60th wedding anniversary in August.  Siblings and spouses all gathered in San Diego for a range of fun activities. We charted this catamaran for the day.  Keith loves to sail so that was top of the list.  Pictured are Susan's parents in the middle and brother's David, Brian and Steven.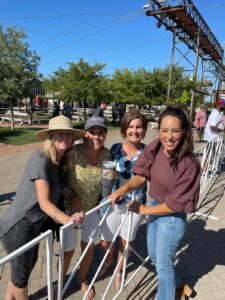 Susan spent a September weekend with friends Gaylene Higgins and Donna Culbertson at the Chip & Joanna Gaines' Magnolia property in Waco, Texas.  A fun getaway for sure seeing the silos, shops, The Magnolia Christmas Bake-off taping, Baylor University and touring "The Castle" .  She even met Joanna!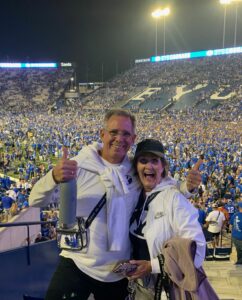 We always love BYU Football games, of course more so when we win!  The double overtime victory against Baylor was the  highlight of the whole season and we were loving being a part of it all.  As you can see all the fans flooded the field.  It was electric!  It brought back so many memories singing the Cougar Fight Song.  We even got on the post-game show that night. Go Cougars!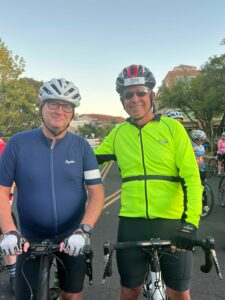 Brian Allred (Susan's youngest brother) and I rode in the October St. George Fall Bike Tour.  We chose to ride the 57 mile event which entailed a 3,000' mile elevation gain. Whew!  Glad I didn't sign up for the 100 mile distance.  Maybe next year.  Been off my bike for a while so this was a great event to get the legs going again.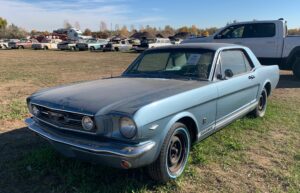 If you have been following these Christmas Letters for a while then you know I am a classic car nut.  Austin found a 66' Mustang GT Coupe at an auction in Fort Collins, CO. You might have seen this in the news.  A guy who owned a towing company, collected 300+ cars over the year and finally decided to let em' go.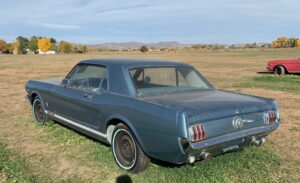 The Stang was too hard to pass up.  Austin did the bidding while I was riding in the Fall Tour.  Never imagined we'd get the car so cheap.  So, Susan and I tethered up the car trailer in October and headed for Colorado for the pick-up.  It hasn't ran for 8-10 years, so we are excited to see if it will fire.  I think, "yes!"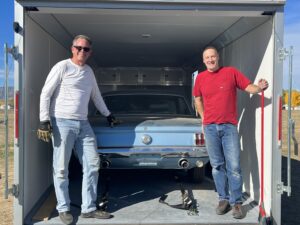 A good friend, Glenn Ferguson from Ft. Collins helped me get it loaded.  It's got my favorite 1966 Ford Mustang color: Silver Blue.  Austin and I are going to do a refresh on this one.  Can't wait to bring it back to life.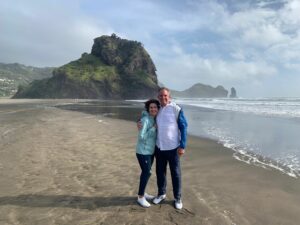 Our Fiji, New Zealand trip was our highlight for the year.  The trip, slated for 2020, got pushed 3x due to Covid.  We met some wonderful people and enjoyed the deserved time away.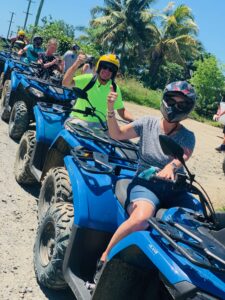 We were with a large group of friends and took advantage of many activities (kayaking, snorkeling, river rafting, an ATV adventure, a day on a catamaran-swimming and snorkeling, visited rain forests and learned much of the Fijian and Kiwi cultures.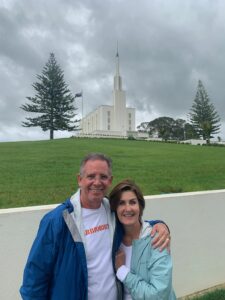 We also visited both LDS temples.  This is the Hamilton temple in New Zealand.  What beautiful country, green, green, green!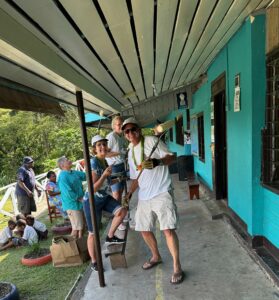 A Fiji highlight was a humanitarian service project we did for a remote village school some 40 miles into the jungle.  Part of our journey included a jet boat ride up a lazy river to reach the village.  We served with a group of 30 other people who together painted a school house, refinished student desks and built new benches.  The people were so kind and gracious.  We wanted to bring the kids home with us.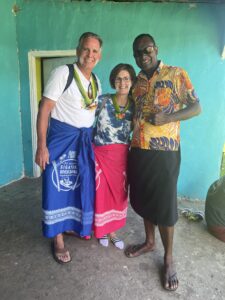 They fed us a big meal to say thank you.  The kids were the highlight.  So poor, yet the lights in their eyes reminded us that happiness is not about wealth or social status. Fiji stirred memories of the Philippines where I served as a missionary many years ago.
Adam & Christy McKell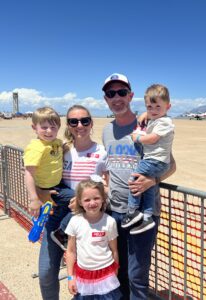 Adam enjoys being a primary teacher for the 7 turning 8 year olds at church. He also likes being Kage's soccer coach. Can you say, "Go Blue Raptors?!"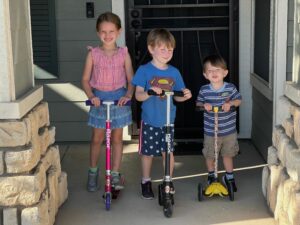 Christy works hard homeschooling the kids. When Molly and Kage write her "I love you" notes and "you are the best teacher" it warms her heart and makes her day. She still loves playing the piano and composing her own songs.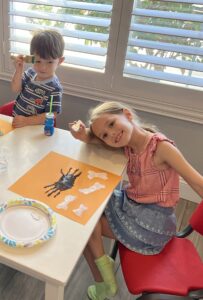 Molly learned how to swim this year. She enjoys singing and dancing around the house. Molly asks great questions from topics A to Z. She is crazy good at doing math in her head. and loves making and selling her bracelets and necklaces. What is she saving for? "A bank account!"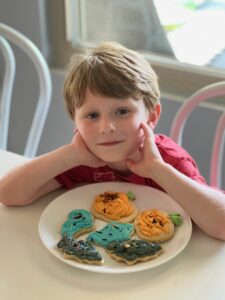 Kage does everything at an accelerated pace. Whether it's zooming through his school work, or zooming around on his bike or scooter, he lives life in the fast lane. He loves sweet treats and we jokingly call him our little Cookie Monster.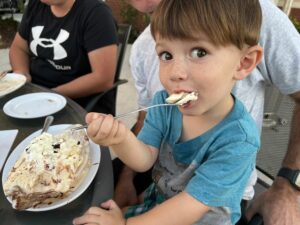 Wade has the cutest toothy smile, and freckles on his nose. He's our little "Leave it to Beaver" boy. He is such a joy and a good listener to his mommy and daddy. He is surprisingly clear with his words and does well at keeping up with his older siblings. His favorite toy is his red Lightning McQueen car.
Aaron & Caroline McKell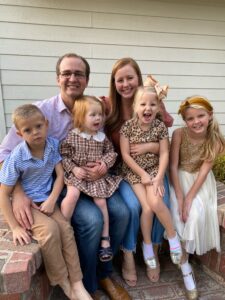 Fresno, CA is still home for the Aaron and Caroline crew.  The year started off with Eleanor's baptism in January.  She loves to read, play soccer and is learning the piano.  Ford is engaged in baseball and has discovered RC cars.  Rosie is in preschool and is always prepared with her own bag of snacks, water, crayons and paper just in case she gets bored.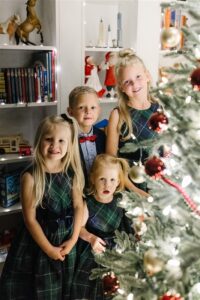 June loves to dance and always smiles except when woken up early from her nap.
Aaron loves being close to work and started teaching early morning seminary this past Fall.  He loves having the church calling to serve the youth, helping them get spiritually grounded in an unsteady world.  Aaron spends his free time perfecting his cooking skills.  He has become the Komado Jo and flat grill master.  Caroline masterfully juggles family and kid schedules and serves in her Ward's Relief Society Presidency.  In her cracks of time she is guiding the ongoing remodel of their home.  It looks amazing!  They have made many friends in Fresno, which they love!
Austin & Chandra McKell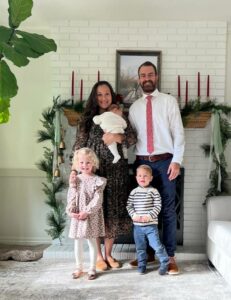 Austin and Chandra are loving life with the three little ones in Orem, UT.  They keep them smiling and busy.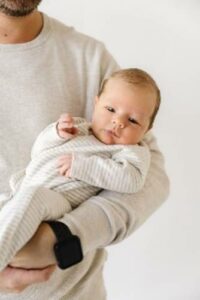 Theodore Mark McKell was born August 29th 2022, 6lbs 14 oz, 20 inches
Theo was born 3 weeks early, labor went long, but with no complications. After a brief time with his mom and dad the hospital staff took him for breathing observations and when they noticed he needed help, he was then life flighted to the nearby NICU as the smaller hospital couldn't accommodate his needs.
Theo's lungs were underdeveloped, but with lots of prayers, a priesthood blessing and an amazing, caring staff he joined his family and siblings after eight days.  He is the sweetest addition to the family and his siblings can't get enough of him.
Reese turned 4 this year and started preschool, she walked right into class the first day and waved goodbye, no hesitation or tears. She loves school and most of all loves her dance classes.
Grant turned two this year and is a little comedian, he makes people laugh everywhere he goes. He has a love of all things cars just like his daddy.  Here we are making faces at each other on my iPhone.  I love this time with the grandkids.
Annie & Aaron Hewlett
Annie and Aaron Hewlett loved the summer months in Idaho Falls, ID.  They have been there for a little over a year and have found the trick to the cold winter months, go to Hawaii in February.  So that is their plan!  Aloha!
Aaron wakes every morning excited to go to work as an Interventional Radiology PA.  He loves what he does and loves the people he works with.  Each day brings new challenges. Basketball is still one of Aaron's loves and he meets his buddies every Thursday evening  to shoot hoops. Annie is the workout queen and loves her F45 group each morning.  Keeping up with two energetic kids keeps her on her toes. She is also also enjoying decorating and hosting friends in their new home.
Aiden is making new friends and learning so many new things at pre-school, his Ninja class and soccer.  He loves recognizing new letters and ALWAYS welcomes a conversation about cars.  (He is his grandfather's grandson)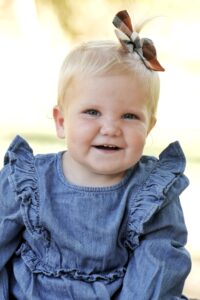 Aria is a climber and is curious about everything behind closed doors.  She loves to imitate her big brother and wants to be with him always, except for when he wants to wrestle. She loves anything Elsa. She warms our hearts with her infectious smile.
Well, if you've gotten this far then maybe I haven't bored you.  I hope not!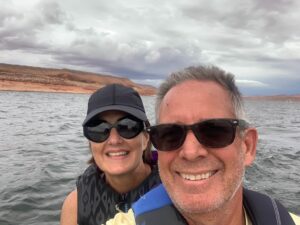 My best friend and I sitting on a jet ski in the middle of Lake Powell in August searching for cell service.
We have had an adventurous year with many changes and new beginnings.  When all is said and done, it is our love for our Savior Jesus Christ and our Heavenly Father's Plan that stirs our hearts.  We are living in a turbulent and crazy world. Good and evil have never been more pronounced.  Faith, Family and Freedom are in our prayers constantly.  Despite the challenges of the day, there is peace in Christ.  When we commit to daily personal religious behavior, it is amazing how one is able to navigate a troubled world and find joy each day.  We love you all and hope this message finds you prospering in all you do.
May each of you have a wonderful holiday season and enjoy the New Year!
Best to all,
Mark and Susan McKell