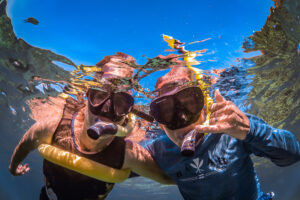 Have you ever stopped to watch yourself?  Have you ever sat on that imaginary park bench and tried to observe your own life?  It's a rather crazy suggestion, but go with me here.  I am old enough to remember when video recorders came out in the late 1970's and the odd experience of watching yourself on film.  Back then, as a high school senior playing competitive tennis, this was a revelatory tool for improvement.  Today, this approach is common to all of us.
But technology aside, what if you could watch yourself throughout each day in an effort to be a better you?  Maybe you would call a time out on yourself from time to time.
When one engages in any sort of personal development, personal awareness is at the forefront of the journey.  But, it's not easy.  This is why hiring an outside coach or having a great mentor can be so valuable.  Ask any top performer and he or she will tell you the importance of this skill for reaching optimal results.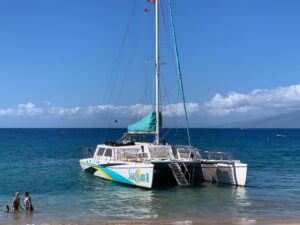 I recently had an experience where I sat on my own proverbial park bench.  Susan and I were on a snorkeling excursion last week in the Hawaiian Islands.  We boarded a beautiful catamaran with a group of anxious divers. We stowed our gear complete with snorkel, mask and fins.  We set sail from the beautiful Kaanapali Coast on the island of Maui to Honolua Bay, a popular snorkeling spot.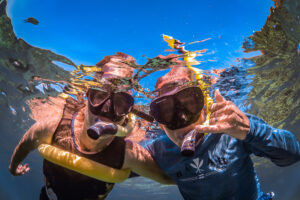 Yes, that's us looking goofy!
Upon arrival the captain gave some final safety instructions. A feeling of anticipation was in the air.  The stairs were lowered into the water as a small cadre of fun seekers scurried into the warm, clear water of this beautiful lagoon.  This was not our first time to snorkel, but it had been a while for me.  Maybe this was why I had forgotten how to see.  I will explain.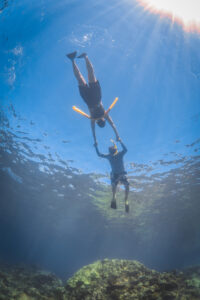 Once in the water and away from the boat I casually scanned the area around me.  I observed some sea life, but was initially disappointed with what I concluded was scarcity.  This quick thought spiraled into a feeling of being let down.  I felt my spirit sink.  Trapped in my own silence and with only a mask as my view finder, I struggled to shrug off an exasperating sigh. In that moment I caught myself and decided to exert a bit more faith and change my perspective.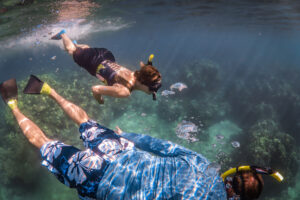 As we continued to swim far from the boat my experience began to change, but only when I changed my outlook.  Traversing the reef, I began to narrow my vision and look more deeply.  As I did so, a new underwater world began to unfold.  It was an interesting shift from sudden disappointment to an incredible new view.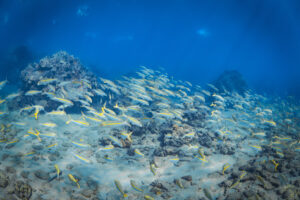 As I slowed down, I began to see things I had initially missed.  First, the numerous sea urchins and anemones.  Swimming hand in hand with Susan she pointed out an octopus hiding under some corral.  Moving more slowly we saw a long eel quickly move from one crevasse to another.  Different varieties of Triggerfish passed us and then the most beautiful pair of colorful Pennant Butterfly Fish languished by.  I was fascinated!  When I thought I had my fill, a long needlefish crossed our path and then a massive school of fish right at our grasp.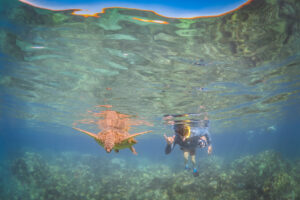 Oh, and did I mention the sea turtles?  Amazing!
Suddenly, I had eyes to see, when before my initial preconceptions had been a barrier.  Before I had seen scarcity, but now I was experiencing abundance.  I had experienced a temporary unwillingness to be open and had judged inappropriately.  Unfortunately, I had been "seeing though a glass darkly" as the apostle Paul cautioned.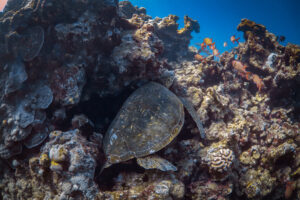 As I swam along I began to have the feeling that this was analogous to our spiritual lives.  It was a distinction that struck me deeply as I continued to move in the water.  "It's just like seeking answers to prayer," I mused.
Sometimes we can be so quick to get up from our knees forgetting to pause and just listen.  Maybe we have our own agenda as to how answers will come.  Maybe, we feel like our pleadings are a one way street.  You know the children's song, "Heavenly Father, are you really there?"
Are we truly open to the guidance we may receive or do we want it only on our terms?  Have we created predetermined boundaries and rules thereby closing off our hearts to messages that can come?  I've done that!  I've learned that an ample measure of quiet pondering and unguarded discernment can open a world of impressions.
The Savior has said, "I will tell you in your mind and your heart by the power of the Holy Ghost, which shall dwell in your heart." D&C 8:2-3  As we unify our mind and spirit, we can feel His counsel and reassurance.  We will know where we should go or what we should do.  But, it takes preparation and an attitude of being present without prejudgments or preconditions.
Early in my snorkeling adventure I sat on that proverbial ocean bench and caught myself and I am so glad I did. In a way, I caught myself catching myself, if that makes sense.  I was in the movie, but watching it at the same time.  It was one of those learning moments I hope to keep replaying over and over again for I have a lot of rough edges to smooth out.
I am grateful for my experience at Honolua Bay last week as it helped me identify some of my own limitations.  There is a price to be paid to experience a closeness with Deity.  Remember the rebuke to Oliver Cowdry when the Lord said, "you have not understood." D&C 9:7  As we set personal pride aside and become more self-aware, we position ourselves for change. Isn't it interesting that the first step of repentance is recognition?
The Savior said, "Draw near unto me and I will draw near unto you."  D&C 88:63
If we do so, we open ourselves up to a beauty we never imagined.