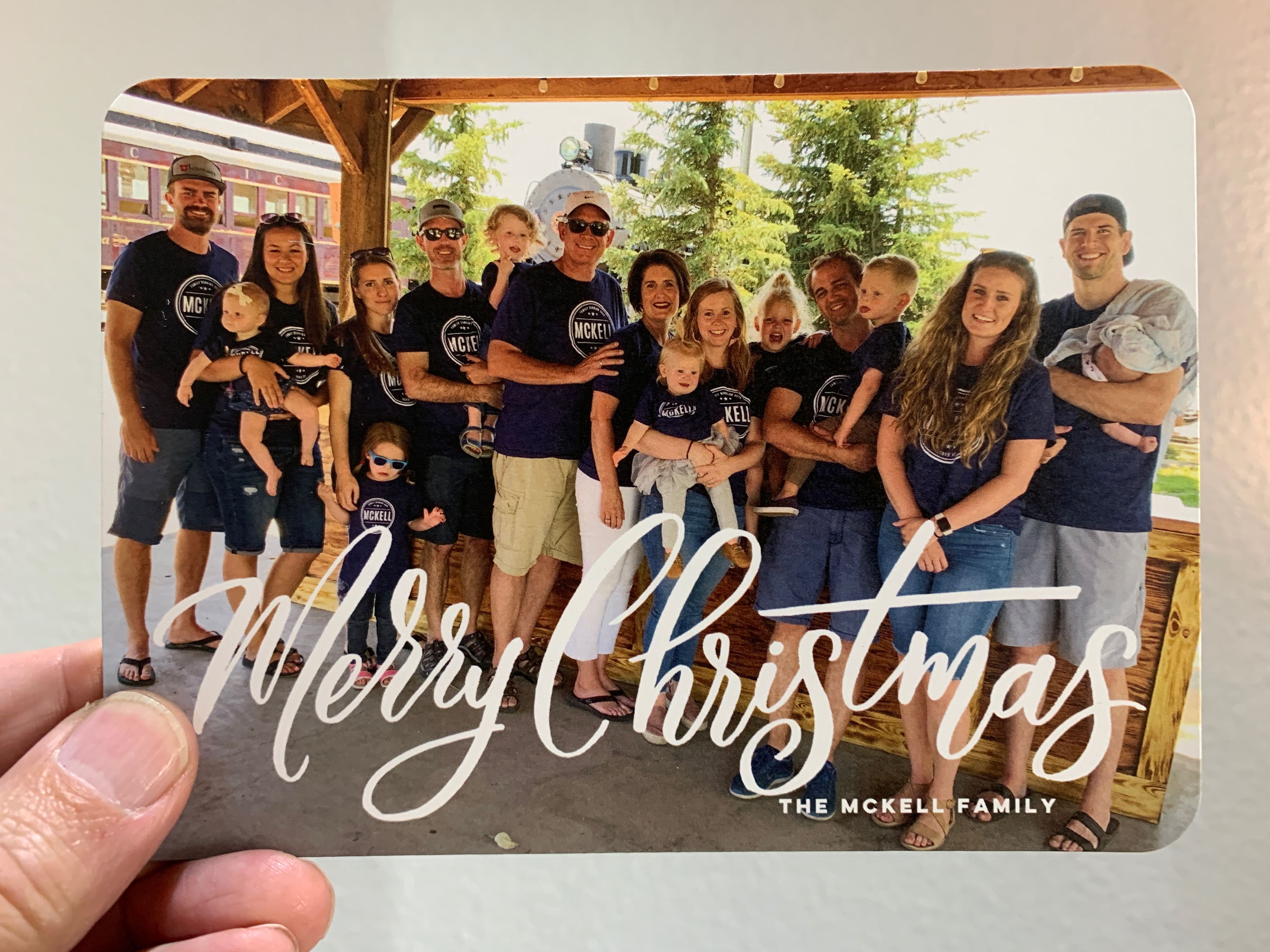 When I was a child, my parents established a wonderful tradition of sending an annual Christmas Letter to family and friends.  Years ago, my mother gave me copies of these early letters from the 1960's and 70's. What a treasure!  When Susan and I were married 36+ years ago, we decided to keep this tradition alive and have composed a Christmas Letter every year.  A couple years ago, we gathered them all up in a binder, over 50 years' worth of letters, and gave copies to each married child. Graced with photos of their growing up years it has become quite a family history record.
As I began organizing my thoughts for this year's letter, it seemed impossible to capture the last 12 months on one piece of paper. Consequently, we've decided to break with family tradition and go digital!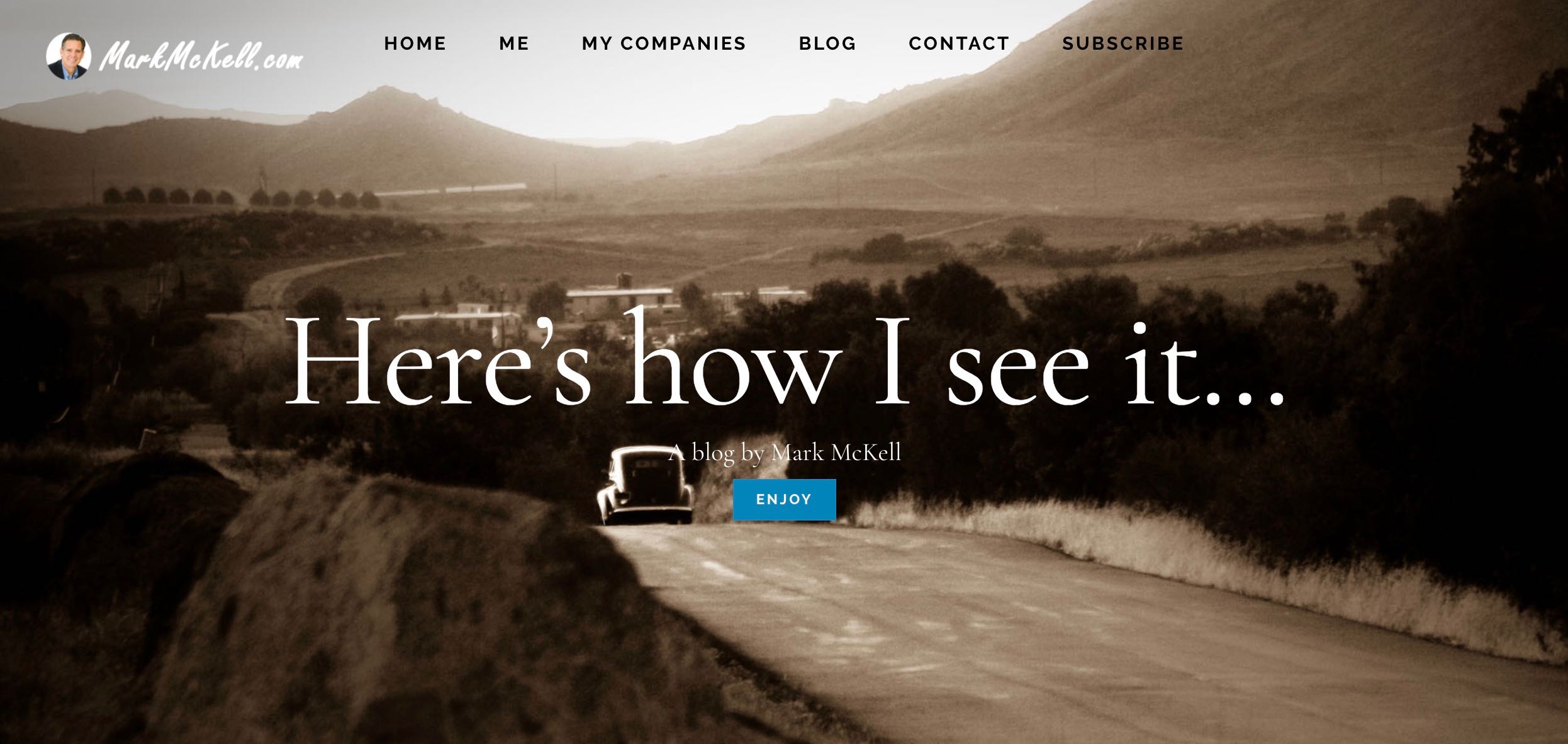 So, our 36 years of traditional mailings are no more.  We have decided to post this year's Holiday Greeting on my personal blog!  Welcome, if you are visiting for the first time!  A couple years ago, I started a personal blog to write on a variety of topics from faith, family, leadership, relationships, parenting, politics, etc. I hope to write more in 2020.
Come back and visit soon. You can subscribe at the top right of the home page to ensure you get our letter next year.   Come Join Us!
And now for our first holiday letter, digital style.
Merry Christmas 2019, Happy Holidays and Happy New Year 2020!
Like most years, Susan and I have been very busy.  With the kids all gone from our nest and growing their own families, they are all now parents.  Of course, our work at McKell Partners continues to move forward.  We love serving others with their financial lives and working with Adam each day has been a joy.  We are growing significantly each year and have added staff to help.
Early in the year, we moved our primary office from Corona to Riverside, CA.  With so many CPA's, attorneys and other business owner clients in the Riverside area, it just made sense to be closer to home.   It is great to be only a 11 minutes from the office!
As for our home, the property seems so much bigger now that all of our helpers moved away. It's been 15 years since the big makeover, so this year has been full of updates and repairs.  We have even more to do in 2020.  We would like to downsize at some point, but for now we are enjoying our little haven in Riverside.
As always, we are anxiously engaged in church assignments.  It's been five years now that I have been serving in a Stake Presidency and Susan is the Relief Society President in our Ward.  For those who might not be familiar, both assignments simply entail leading the ministering effort of a large group of people.  We enjoy giving back and serving others, but it does make for busy days and weeks.  We wouldn't change it.
Susan has been in heaven welcoming the wave of new grand-babies coming to our family.  With eight new grandchildren under six years old, this has become a wonderful joy.  It's hard to express the feelings of love for these new arrivals.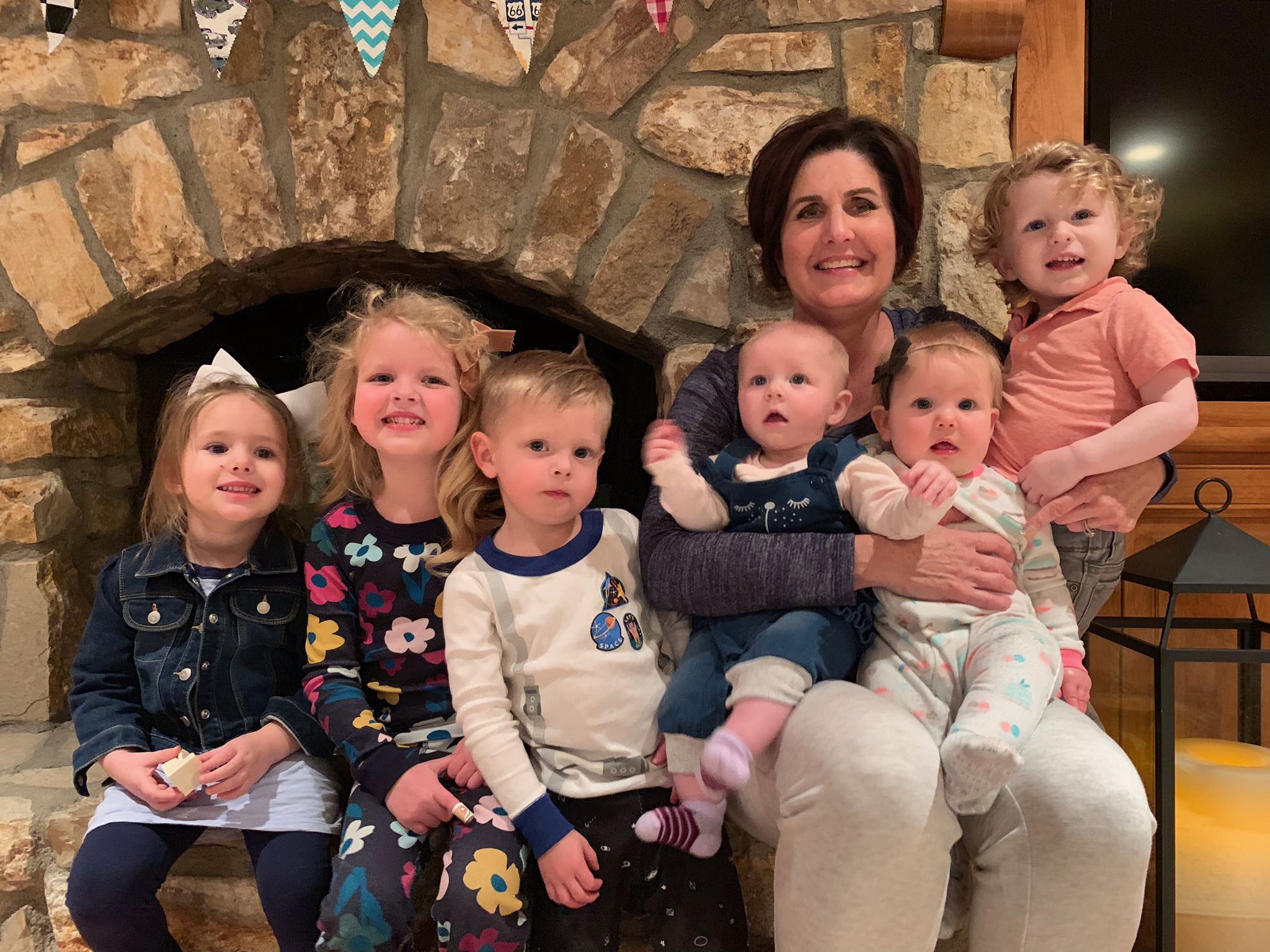 2019 was an off the charts splash of all kinds of activities, celebrations and fun times.  The shot below was taken at our summer family reunion we held in early July.  We gathered on a small family compound of four cabins at the River's Edge at Deer Park near to the Jordanelle Reservoir north of Heber, UT. Every day was packed with great activities like bike rides, flying kites, water ballon fights, jungle jim, various daytime crafts, a trip to the water park, evening roasted marshmallows, etc.  Getting the kids down to bed early each night allowed the adults time to connect and catch up on the previous year.  We brought our motorhome as the family reunion was the first stop in a road trip across the county.  Stay tuned.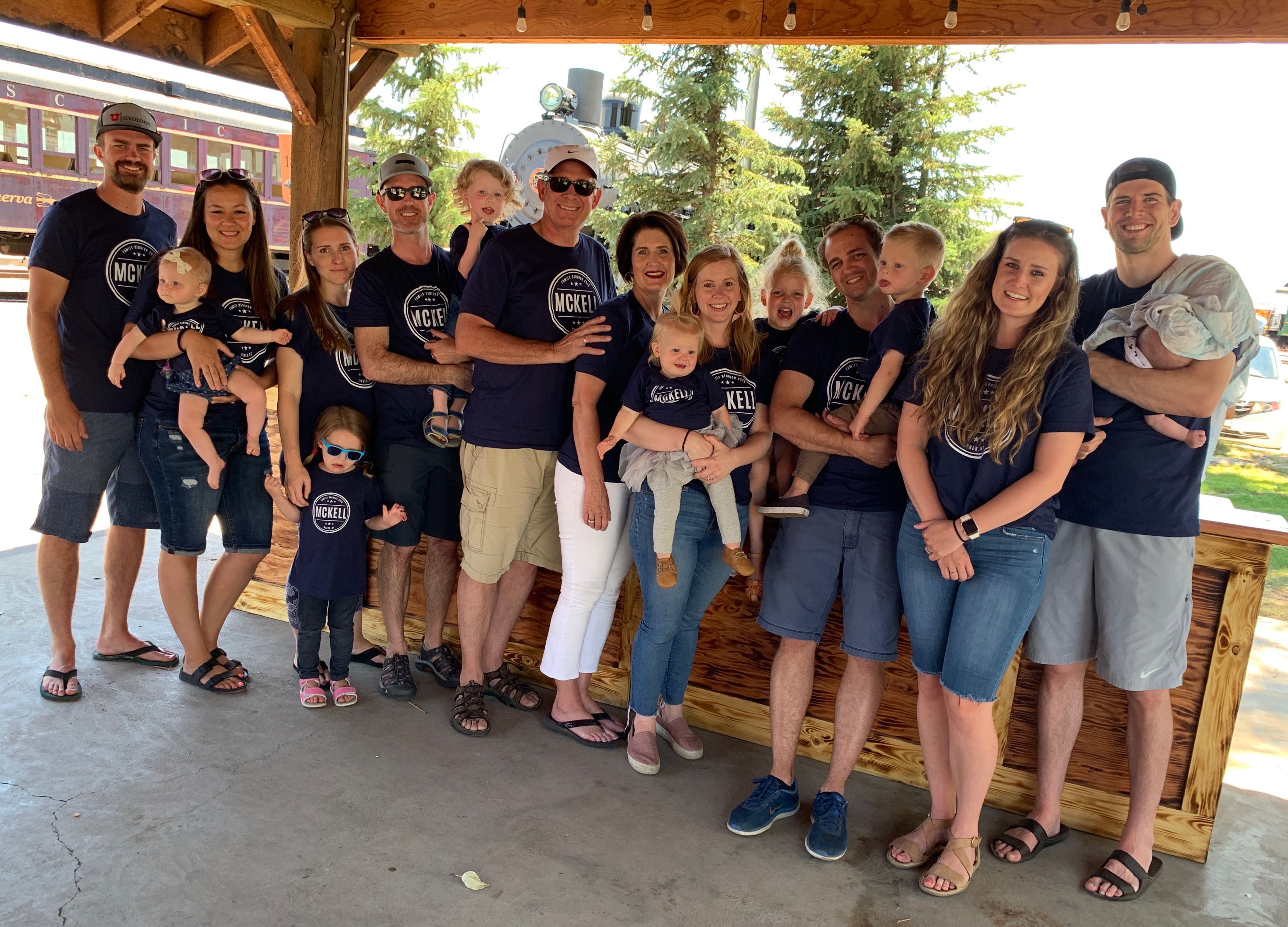 We took a ride on the famed Heber Creeper which is an old locomotive.  We even had a visit from some old west outlaws who hijacked the train.  The kids loved it…except for the few that got scared.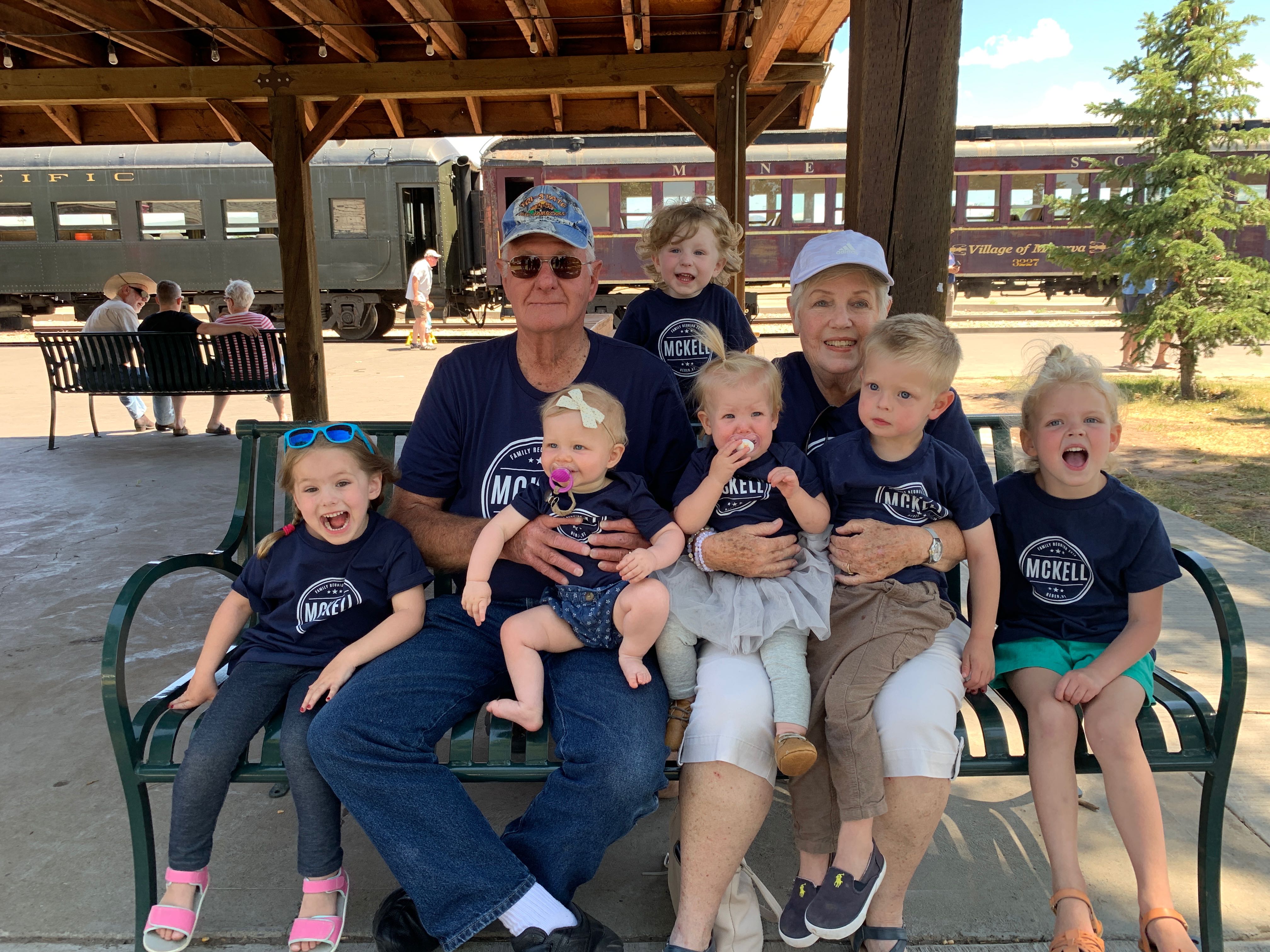 Susan's parents, Keith & Marilyn Allred, joined us with their travel trailer from St. George, UT for the week.  It has been wonderful to have them join us for our family vacations over the years.  It is so fun to see them develop long lasting relationships with their great grandkids.  My parents, Eldon & Claudia McKell, visited as well.  My Dad is getting a bit older, so moving around is not as easy as a few years back, but we enjoyed them sharing time with us. They live in Provo, Utah, so it wasn't far for them to come.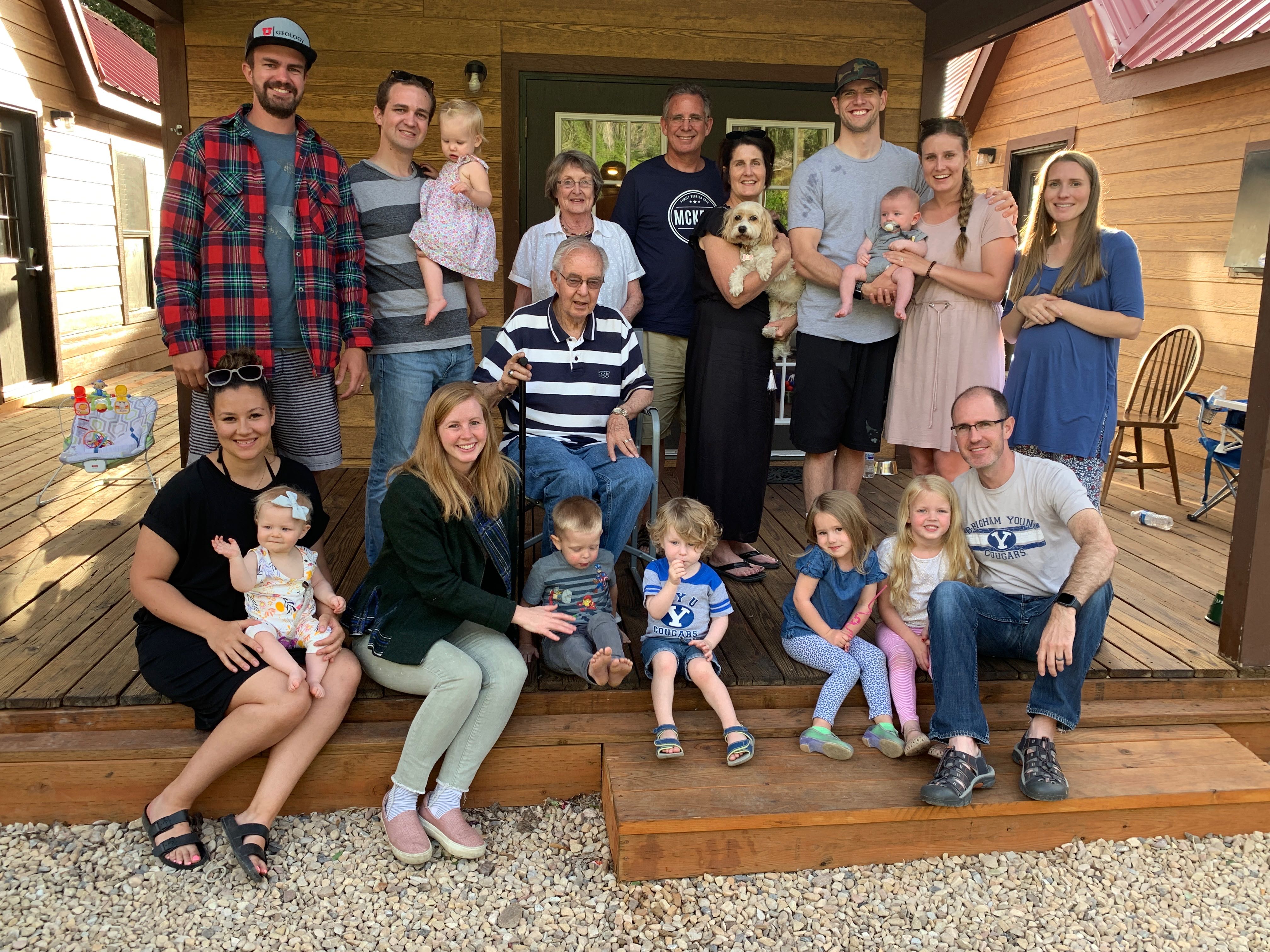 Probably my favorite photos are these below.   It was a treat to see cousins deepen relationships by spending time and playing together.  This is at the heart of what Susan and I are trying to create with family gatherings.  This shot of Molly and Eleanor flying kites down the lane at the park is a great memory.  They had so much fun together.  They are our oldest grandchildren at 4 and 5 years old.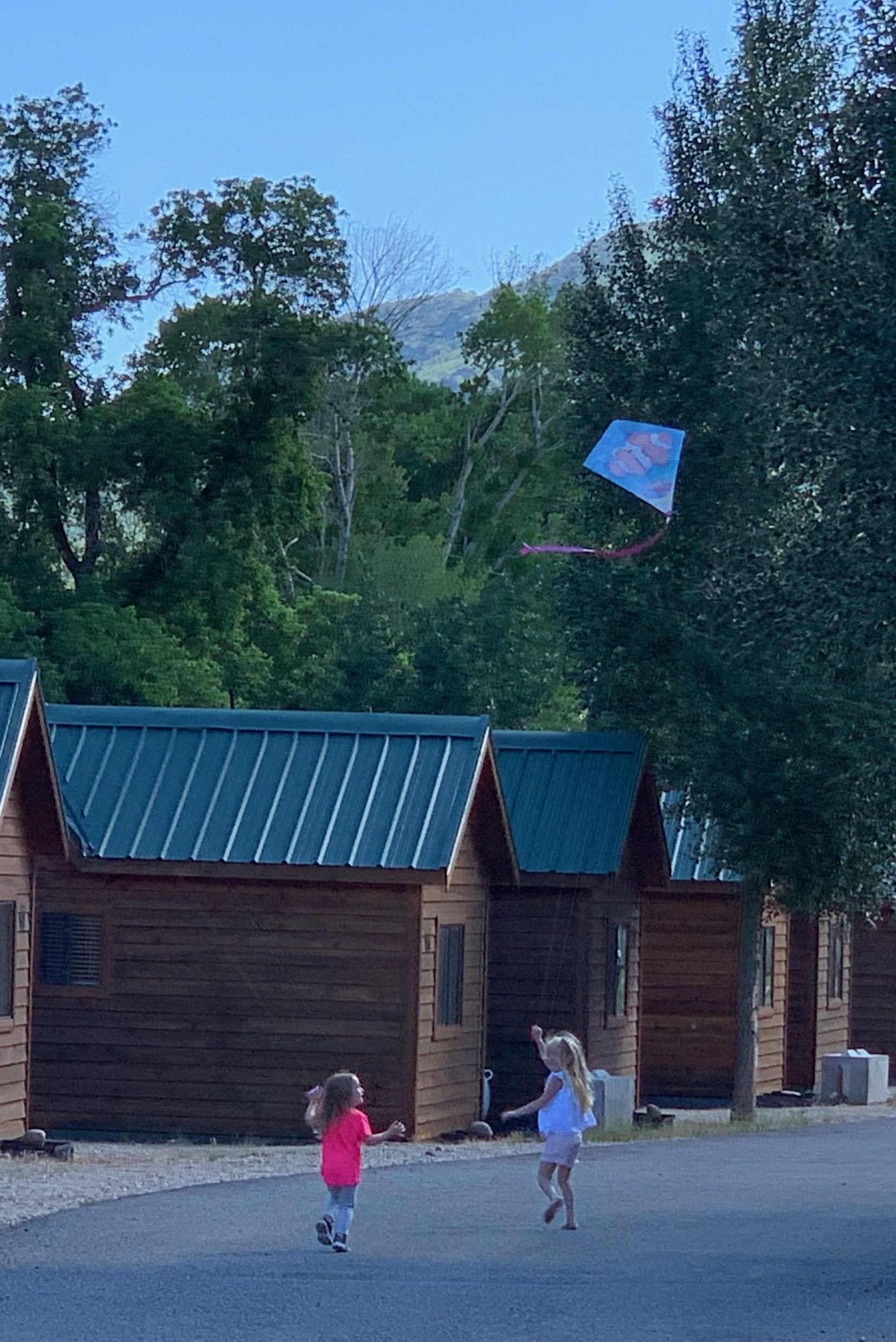 Here are more cousins hanging out on Uncle Austin's truck tail gate waiting for the 4th of July Parade to start in Kamas, Utah.  Pictured are Eleanor, Molly, Kage and Ford.  The kids loved the small-town parade especially scampering out to pick up all of the candy being thrown by those on the floats.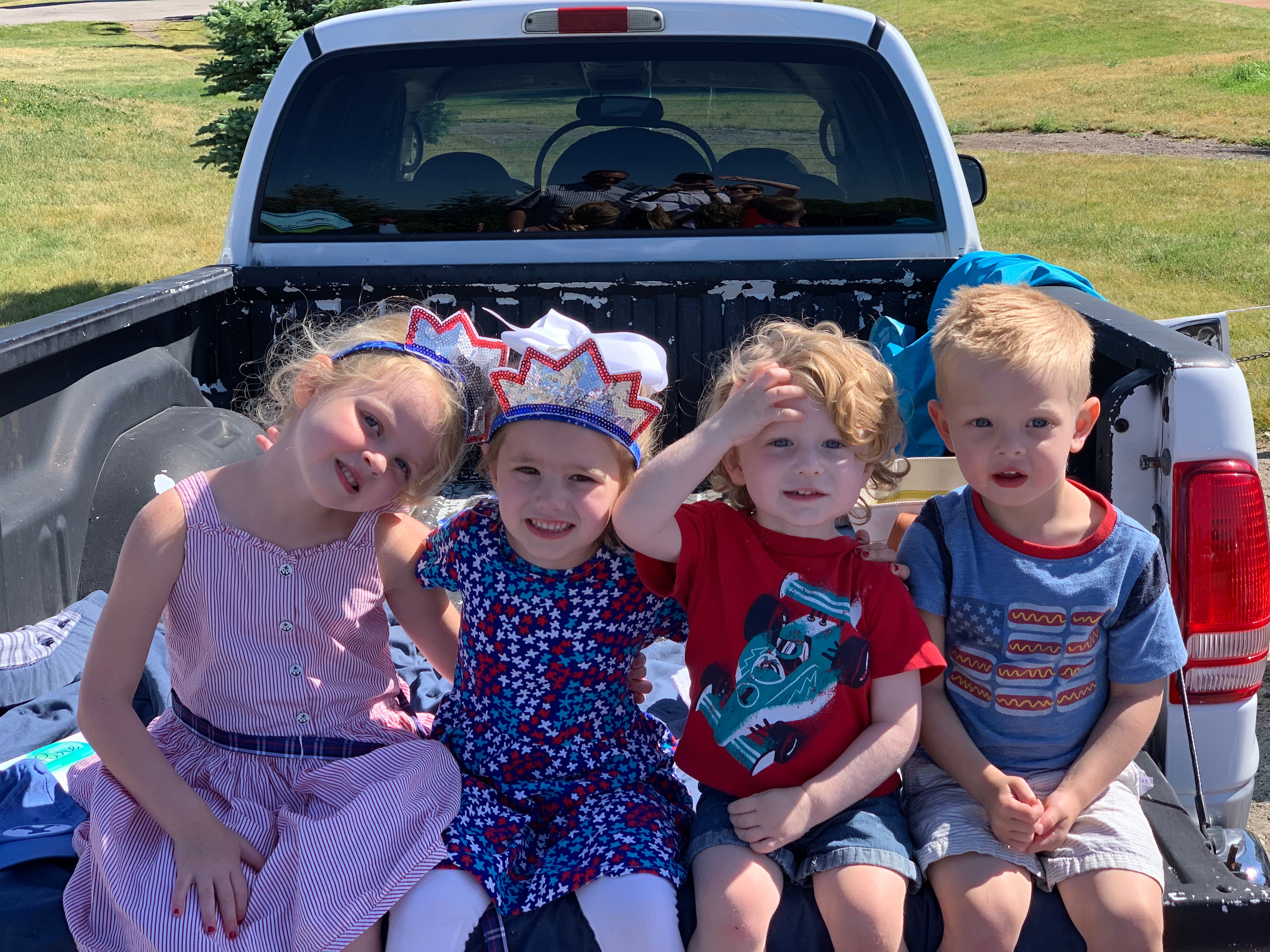 Early in the year, Annie and Aaron Hewlett starting their family with a baby boy, Aiden Charles Hewlett.  Aiden is all boy and a bundle of smiles.  Annie and Aaron live in Orem, Utah.  Annie graduated from Utah Valley University in 2018 and Aaron graduated from the same college this past Spring.  He is now enrolled in PA school at Rocky Mountain University of Health Professions in Provo, Ut.  It's a two year program and he's well on his way.  Aaron, you look great in your white coat!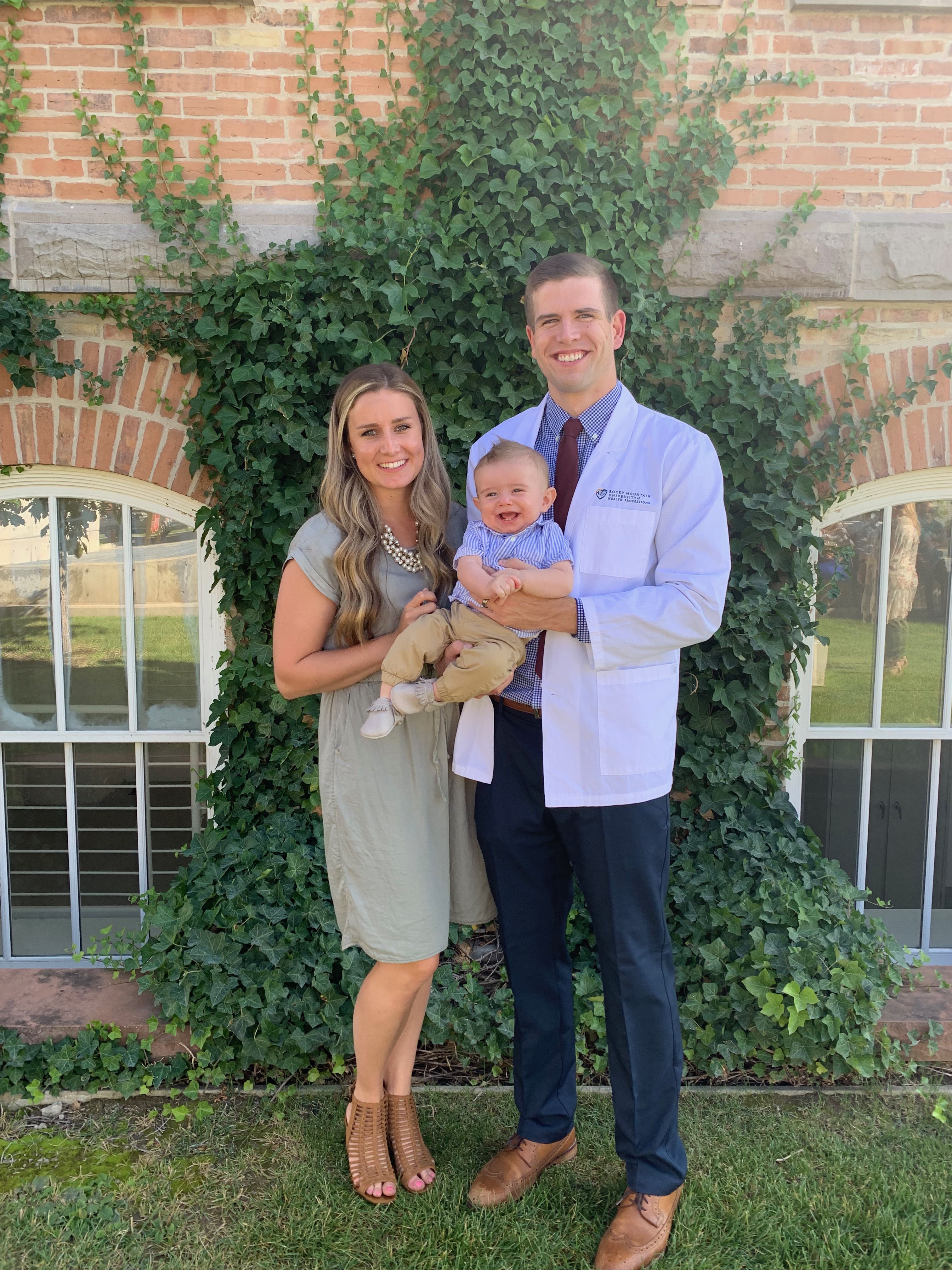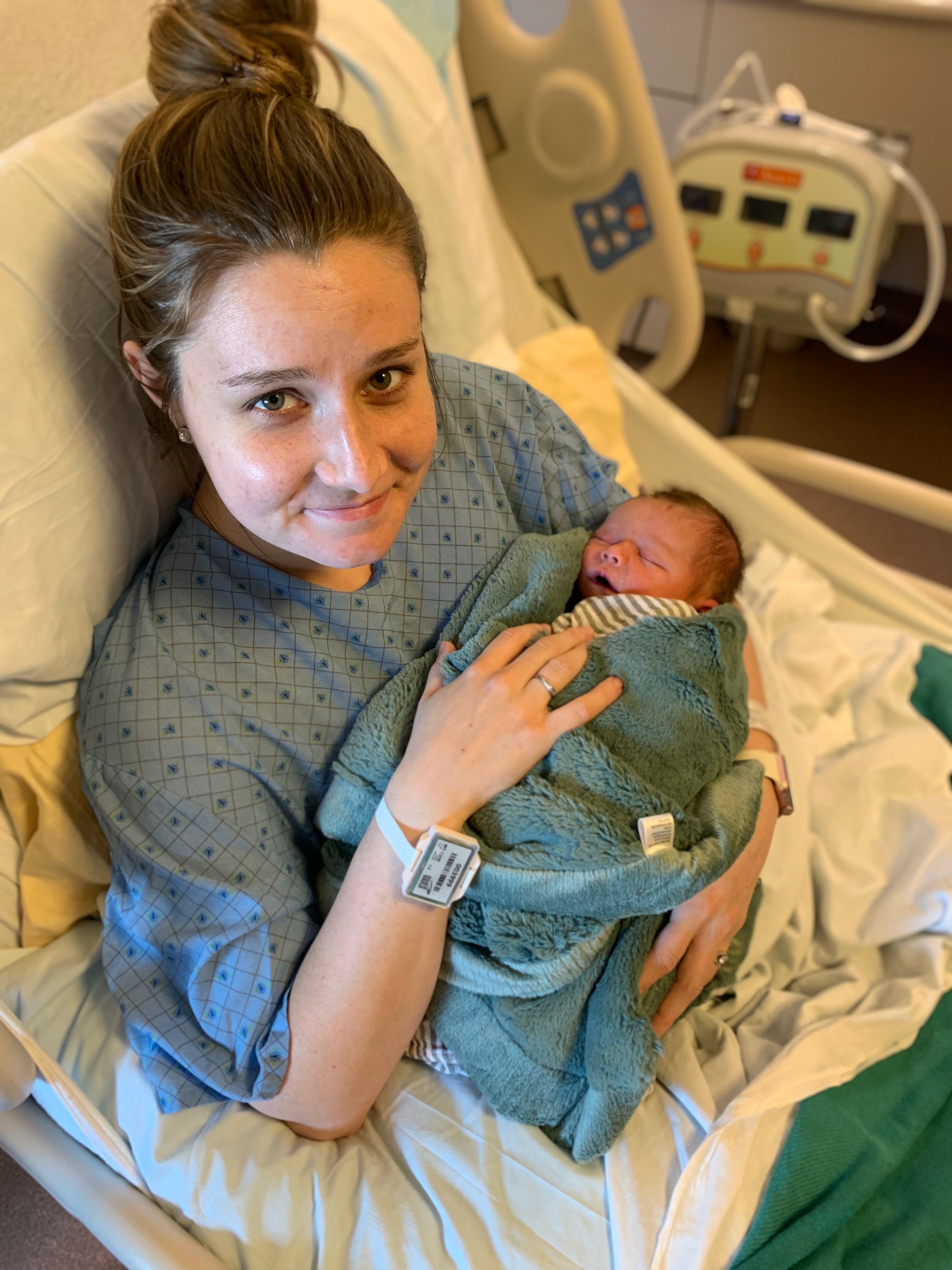 Speaking of graduations, Austin graduated from the University of Utah in the Spring.  He majored in Geo Science and is currently working at the Rio Tinto Copper Mine facility in the Salt Lake City area as a Mineral Lab Tech.  Chandra is still working for the Hyatt and is all things extraordinaire!  Austin, Chandra and Reese live in Salt Lake City with Doris, their Llewellin Setter. They are expecting a baby boy in March 2020.  Congrats Austin and Chan!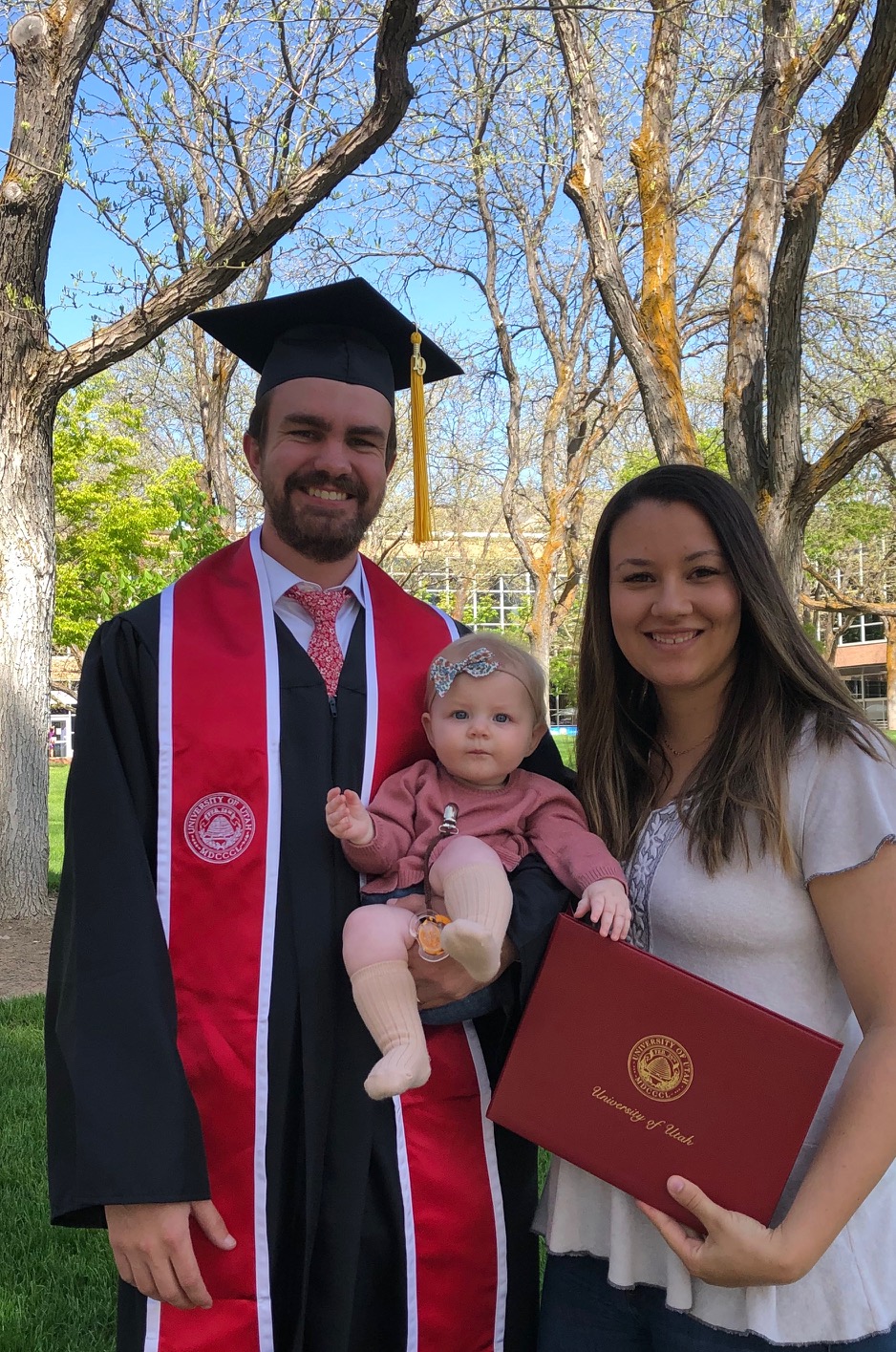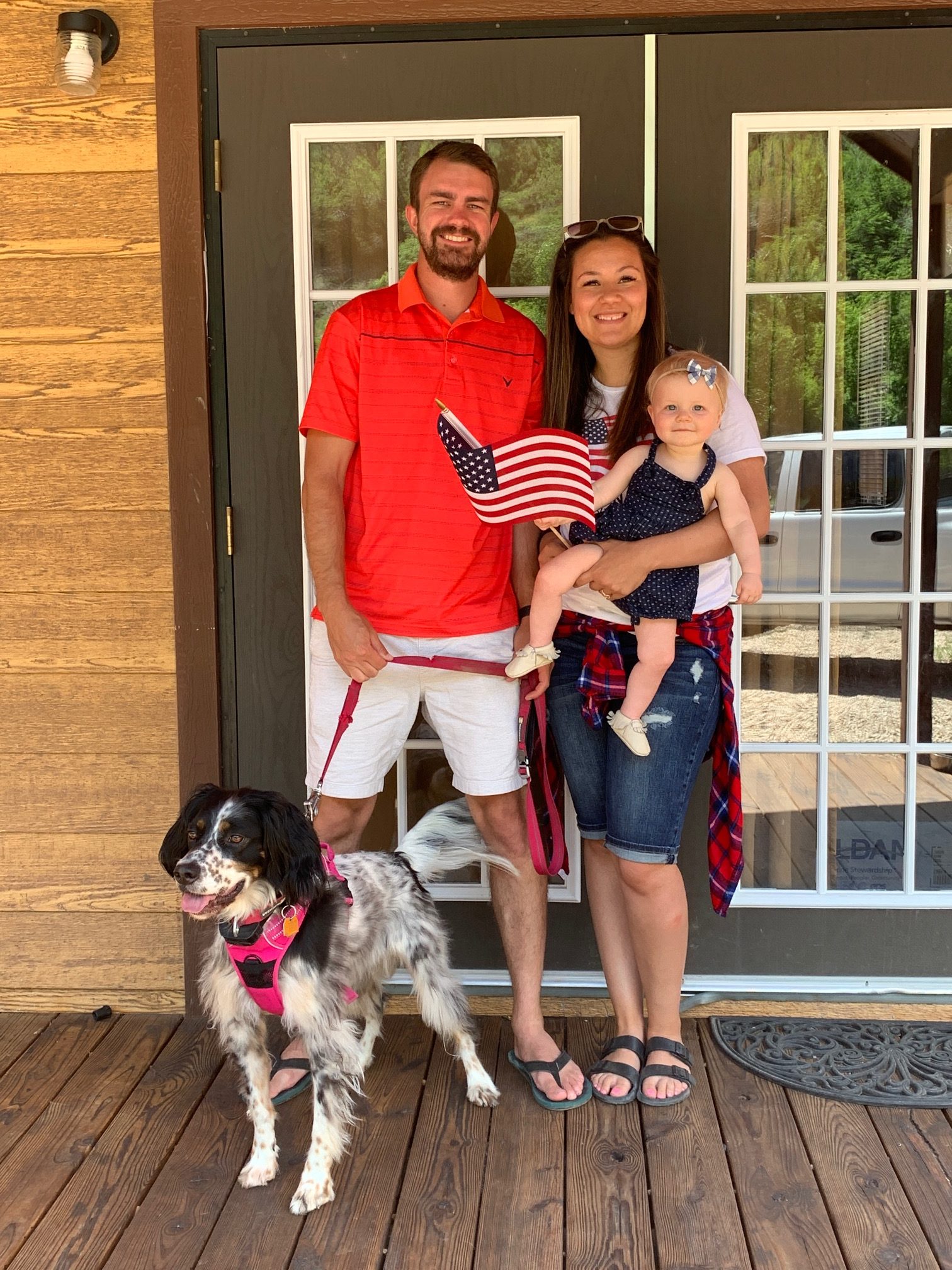 It's no secret that I have an affection for classic cars.  I inherited that affection from my father and it has definitely been passed on to my boys!  Austin really loves 1964, 65 and 66 Ford F-100 Pick Up Trucks.  We have been looking for a long time to find the right project.  After about 18 months of looking, we finally found a one owner 1964 F-100 Custom Cab short bed with only 70,000 original miles.  Truly, a rare find.
The truck was really dirty, and the paint was completely faded and dull, but we have been working on bring it back to life.  Austin comes down to California from time to time so we can spend time together on the project.  These are great memories!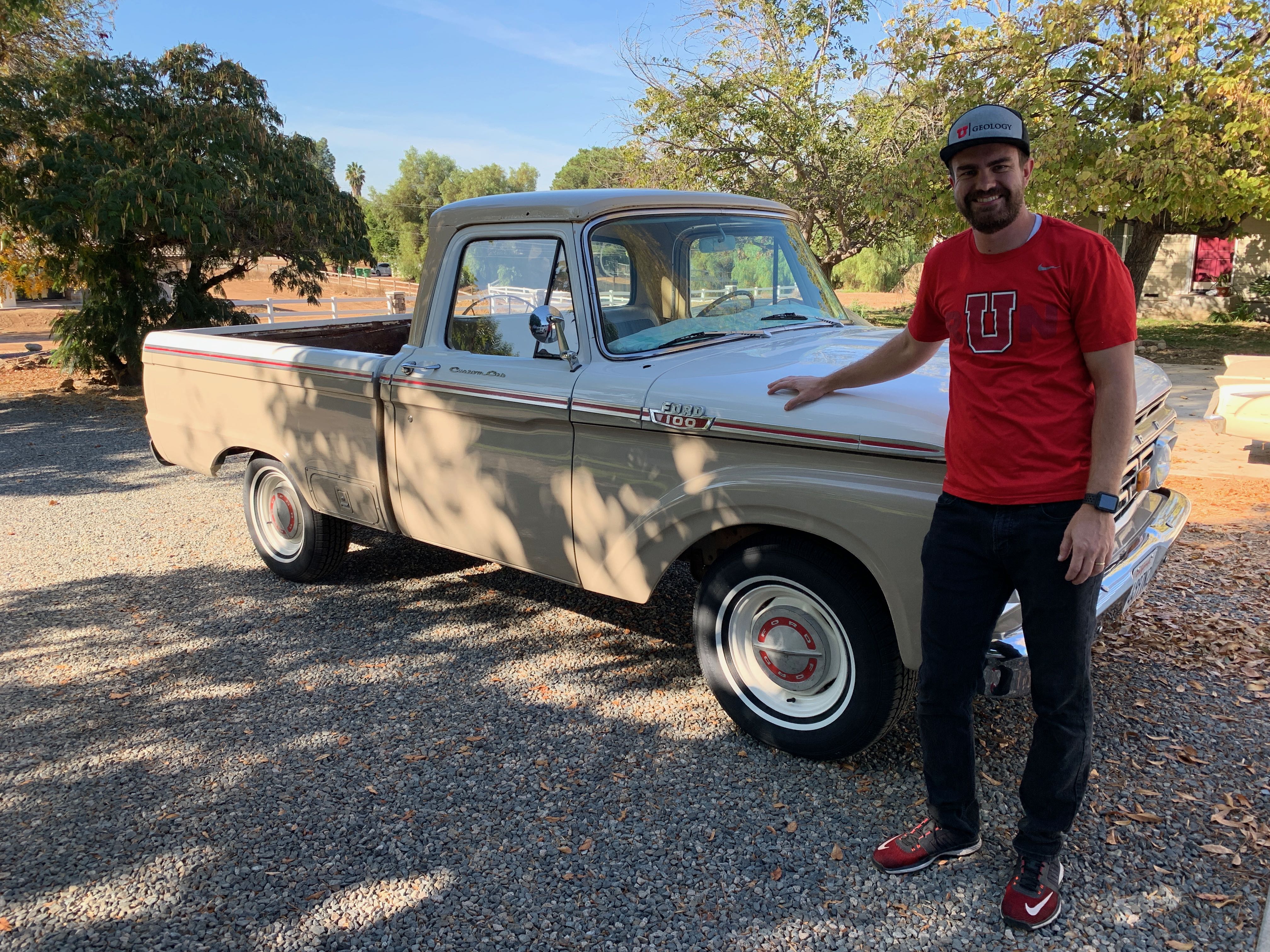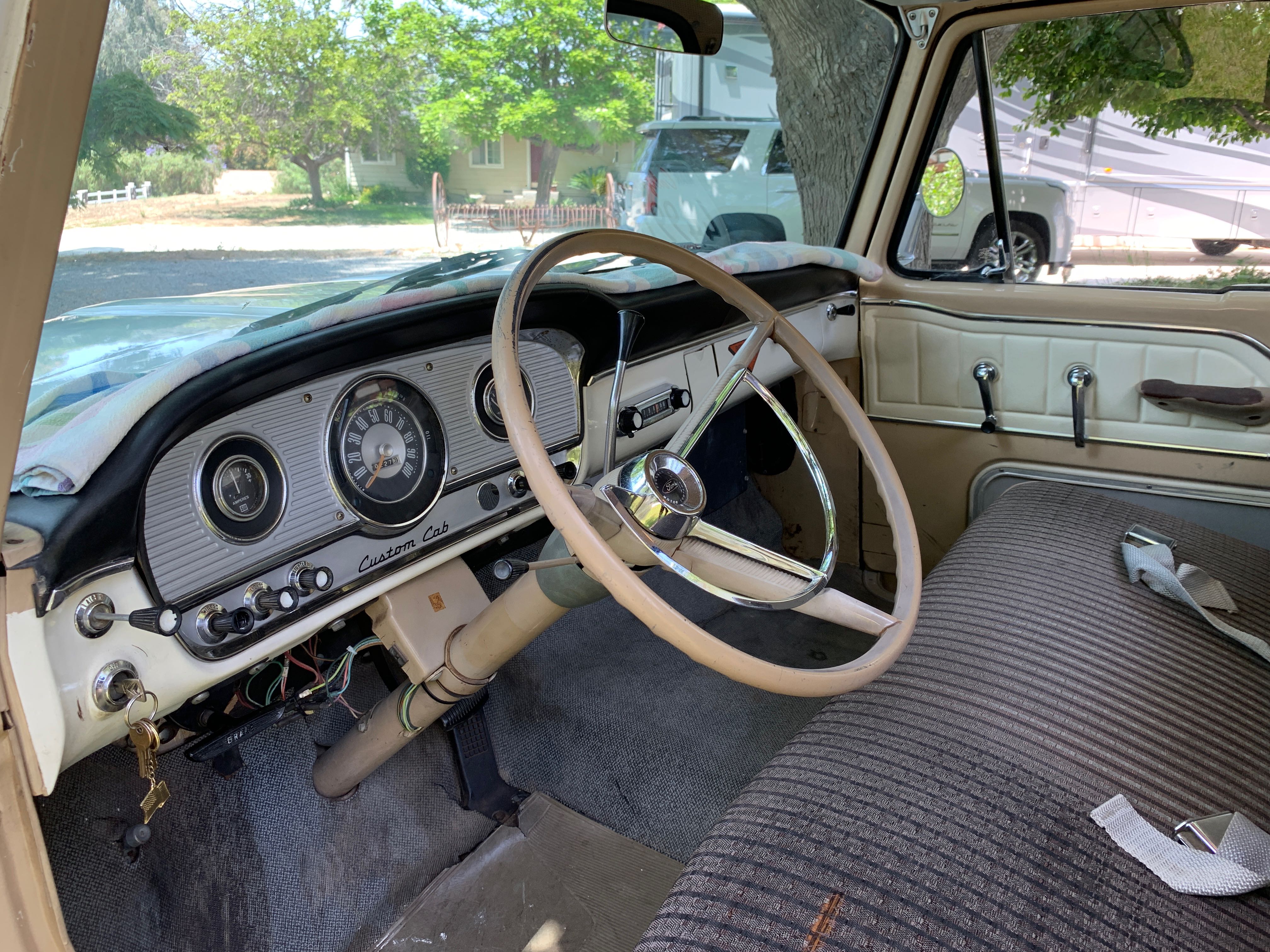 We recently found some original 15" steel wheels. They were worse than ugly!  We had them sand blasted and powder coated Ford Wimbledon White and dressed them up with some old vintage 1960's Ford caps. The truck is starting to take shape.  Gosh, I love these old rides and their simplicity.
Since we are on the topic of cars, I had a fun experience in May of this year.  As I mentioned earlier, my dad is slowing down, but his love for old cars has not waned.  He registered his 1966 Ford Mustang GT Convertible again in the Utah Valley University Auto Expo.  Knowing he needed some help, I decided to drive up and bring one of my own classics so we could put them in the show together, parked side by side.
I registered in advance and wondered about the 10-hour trip from So Cal.  I rarely drive these older cars that far.  In fact, never!  It was still quite cold in May and even snowed on the drive up through some of the Southern Utah mountain passes.  I got a bit concerned because my 1957 Ford F-100 Pick Up does not have heat or defrost and so the slushy snow accumulating on the windshield made it not only hard to see, but freezing in the cab. The 57′ model year for Ford was the first year Ford built the fleet side styled truck, so it attracted a lot of attention along the way.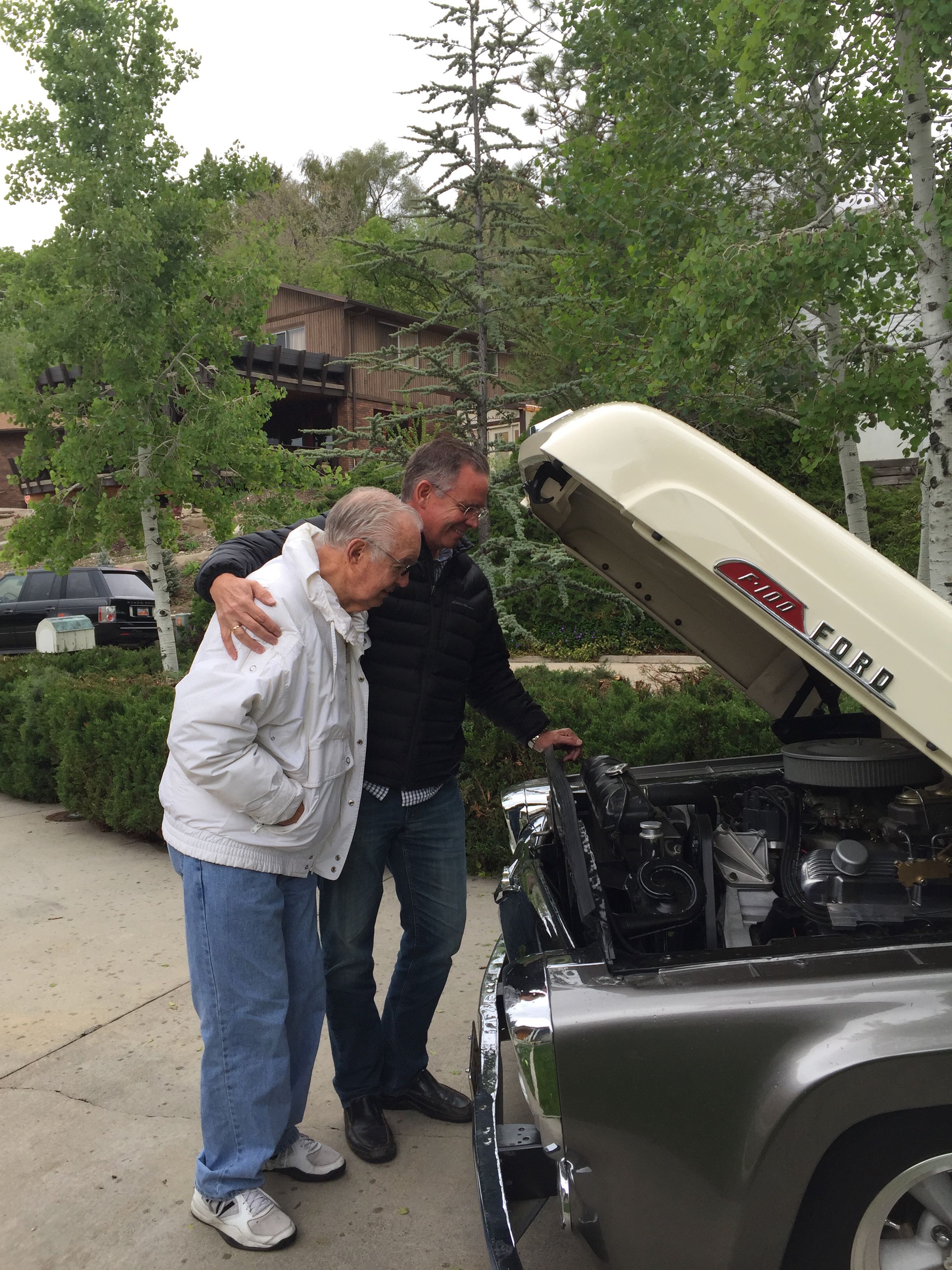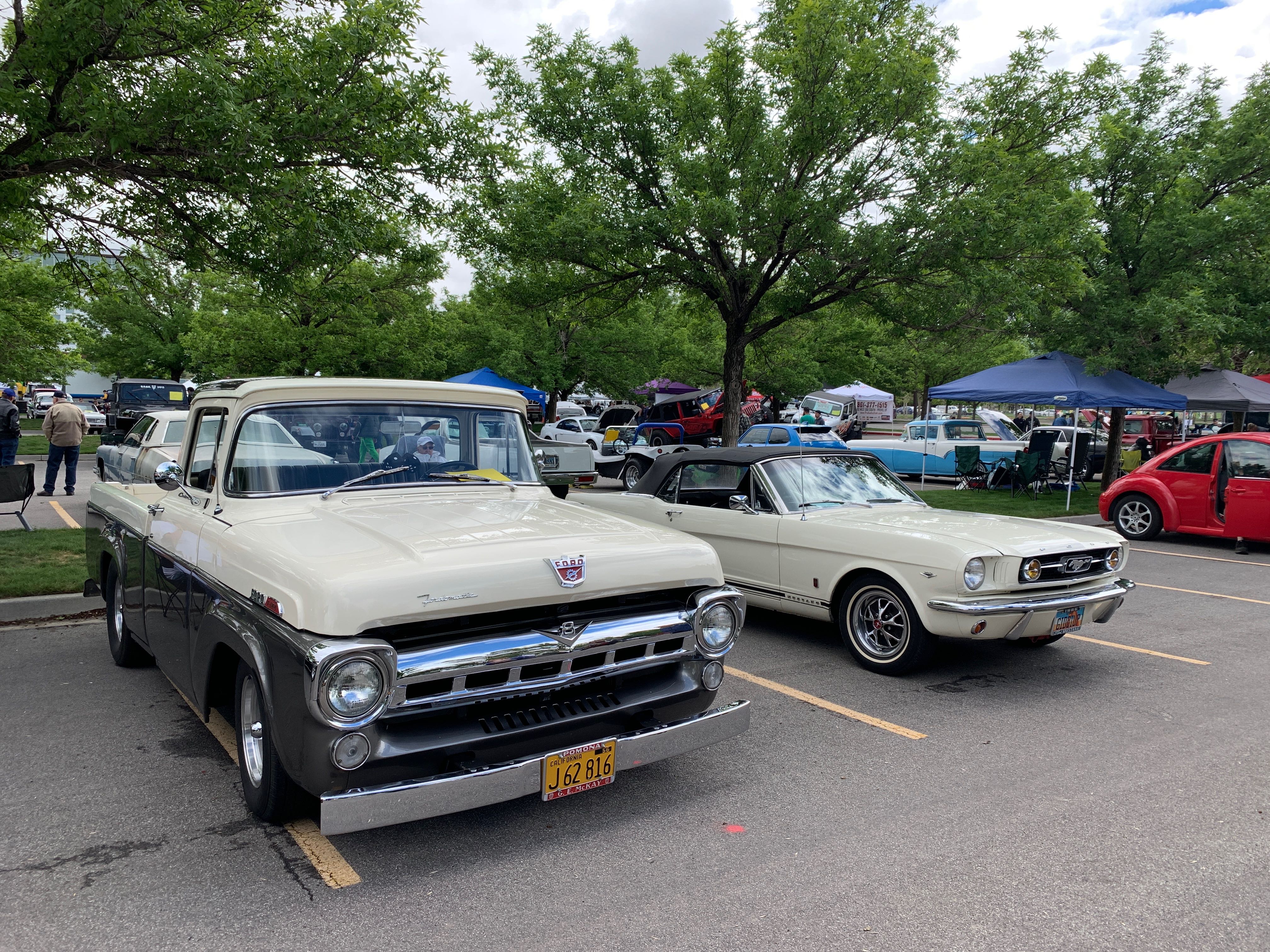 Joining my brother Matthew at the show with my Dad was a dream come true.  As a child and teenager, Dad took me to countless car shows which is where I got the old car bug.  I have many memories trying to keep up with him at car events across Southern California.  We spent many nights laying on a cold garage floor working together on these old rods.  I was my Dad's tool gopher, you know, "go for this and go for that!"  Dad and I are the best of friends because we spent time together…  This speaks to the power of spending time with your kids…  Thanks Dad!
Dad had not seen my 57' pick up yet, so the shot in his front driveway is a great memory as he is checking out my ride. Here is the F-100 parked at the UVU show next to Dad's Mustang.
After our July Family Reunion in Utah, Susan and I left for a road trip to New York City.
Why New York City?
Susan has sung in the California Chapter of the Millennial Choir Organization for almost 12 years.  They were invited as an organization to perform in Carnegie Hall, in mid-July.  The organization comprises nearly 5,000 performers and orchestra members from several western states.  You can see Susan in the photo below, third from the right.  What an incredible experience to perform in such an historic setting.
But the performance was not without its drama.  You won't believe what happened.  Stay tuned!
Our trek across the country was something I have always wanted to do. Over the years, I have been to most all the major US cities on business, but have never taken a road trip like this.  In 2018, when Susan learned of the opportunity to perform in New York, we set our sights on making the journey.  Once on the east coast, we planned to slowly journey back west and see many of the LDS Church History sites that we had never visited.
We took a picture of every state's welcome sign as we entered.  That was fun!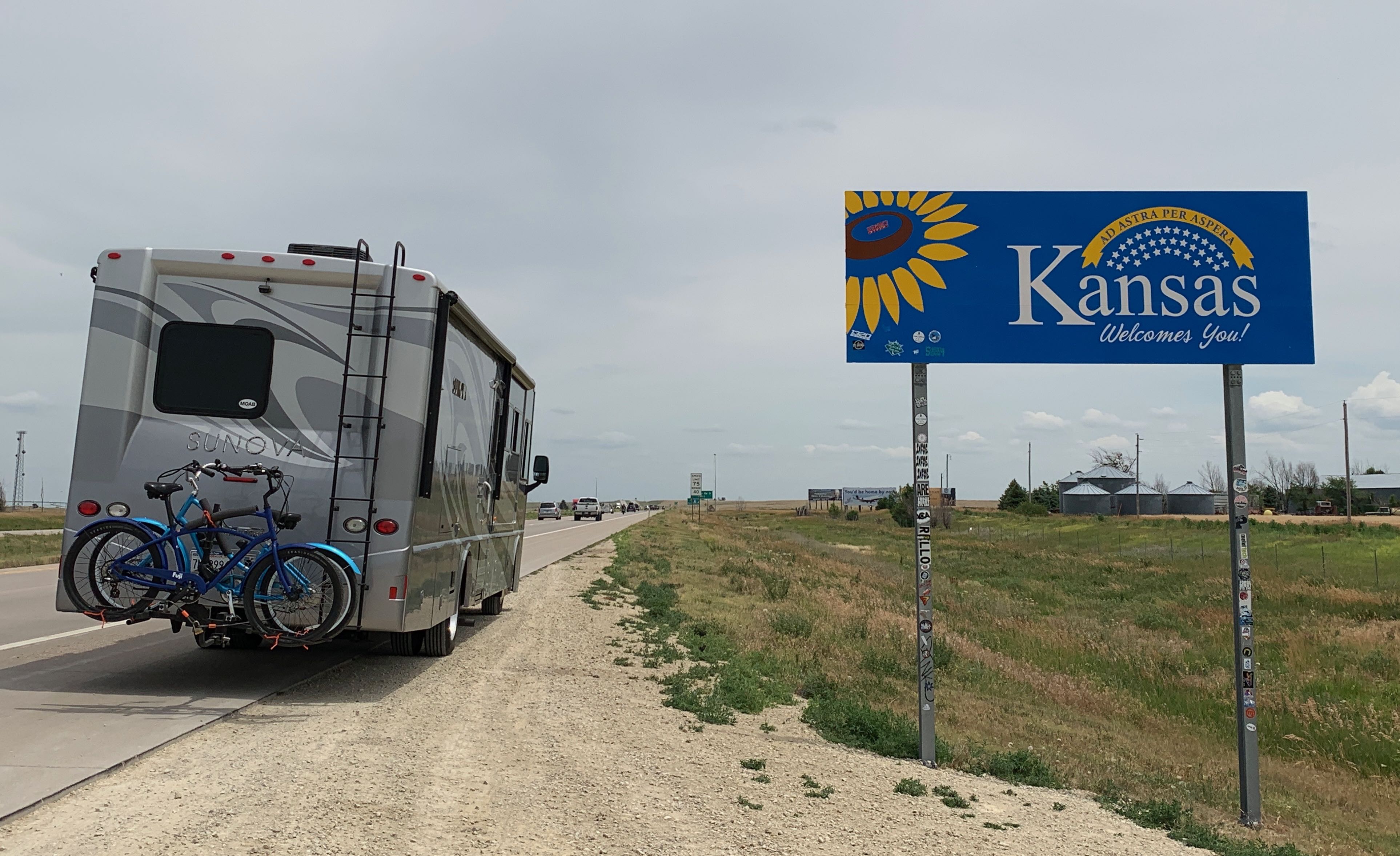 What a beautiful country we live in. This was coming through Colorado.  I had to pull the coach over to catch this shot.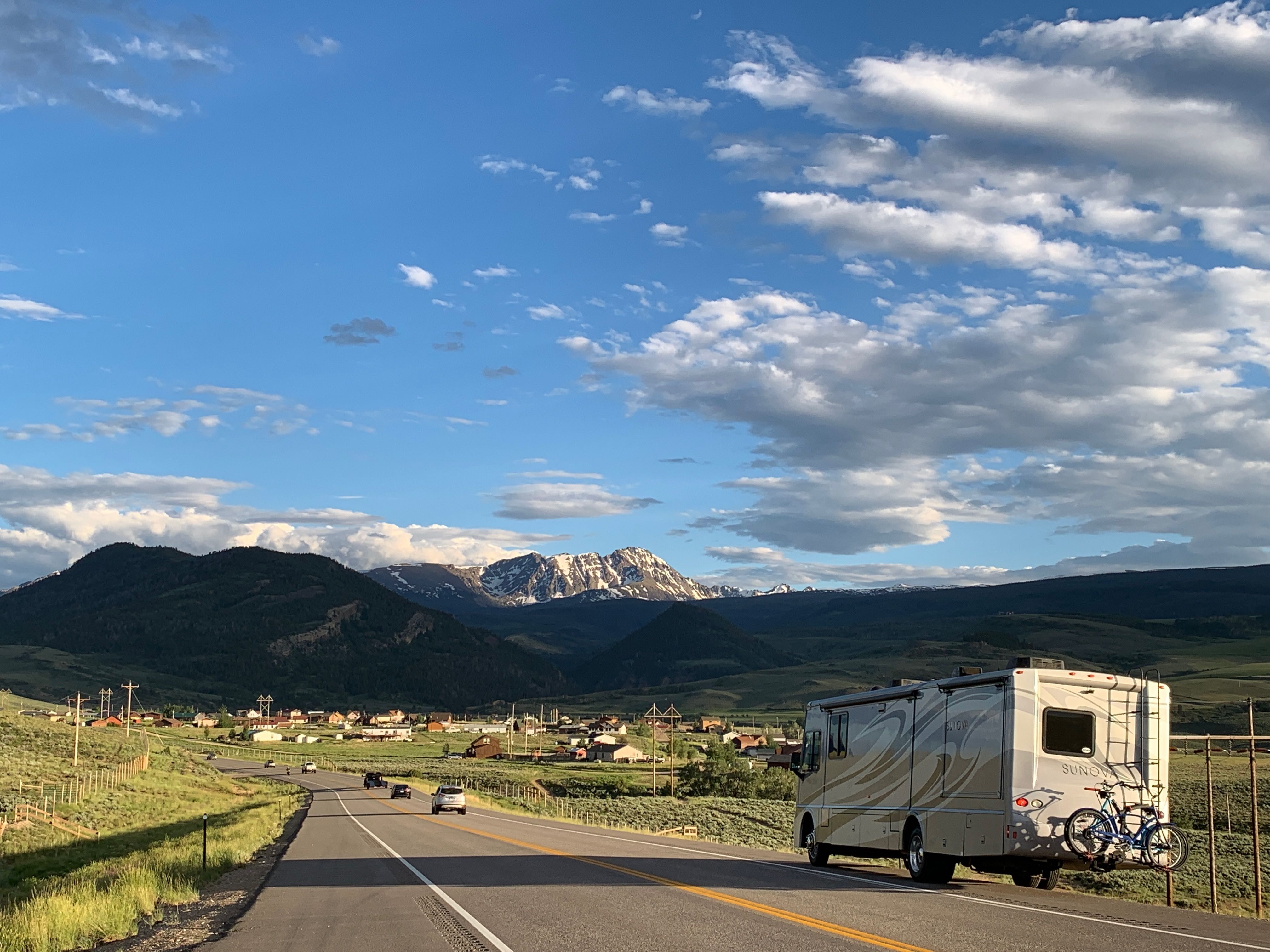 Of course, while in New York we saw so many great places like the 9/11 Memorial Museum, Ellis Island and the Statue of Liberty. We had been to these sites and others before, but enjoyed visiting them once again.  We even visited the Hershey Chocolate Museum in Pennsylvania a day before hitting New York.  We loved the story of Milton Hershey and the history there.  If you haven't made this stop we highly recommend it.  We even enrolled in a class and learned how to make a chocolate bar.
There are no motor home RV parks in New York City, so we found one in New Jersey on Liberty Harbor with close access to the trains and ferry system.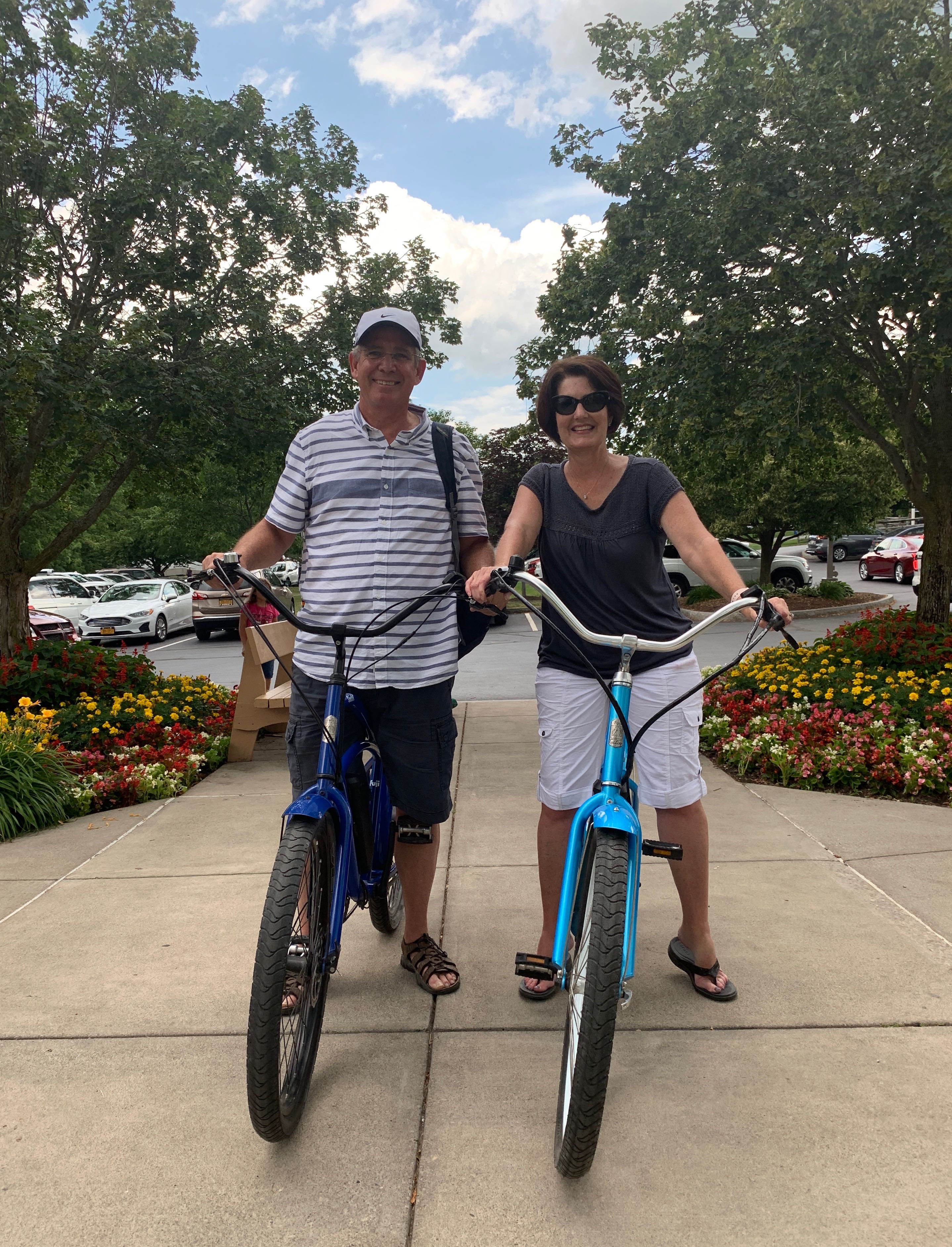 We took our electric assist bikes which proved most helpful for getting around some of the tourist sites close to the RV park in Jersey and on several of the stops along our journey west.
I noted earlier about some performance drama in New York.  Here's what happen.  Susan's experience at Carnegie Hall was unfortunately cut short.  The choir was to perform in three separate performances.  The Friday evening and Saturday mid-day performances went off without a hitch. However, there was an electrical blackout in New York City which interrupted the Saturday evening performance. You might have seen the news as it was publicized nationally. The choir was evacuated onto 57th Street just 45 minutes before they were to perform.
There on 57th Street the Millennial Choir performed an impromptu performance as the sun set between the New York skyline (I found out the locals call this sun setting, Manhattanhenge). I stood there amongst hundreds, if not thousands of people listening to their angelic voices.  It was a moving, magical experience never to be forgotten.
Here is a news link with some video detailing what happened:
https://liveforlivemusic.com/news/millennial-choir-carnegie-hall-blackout/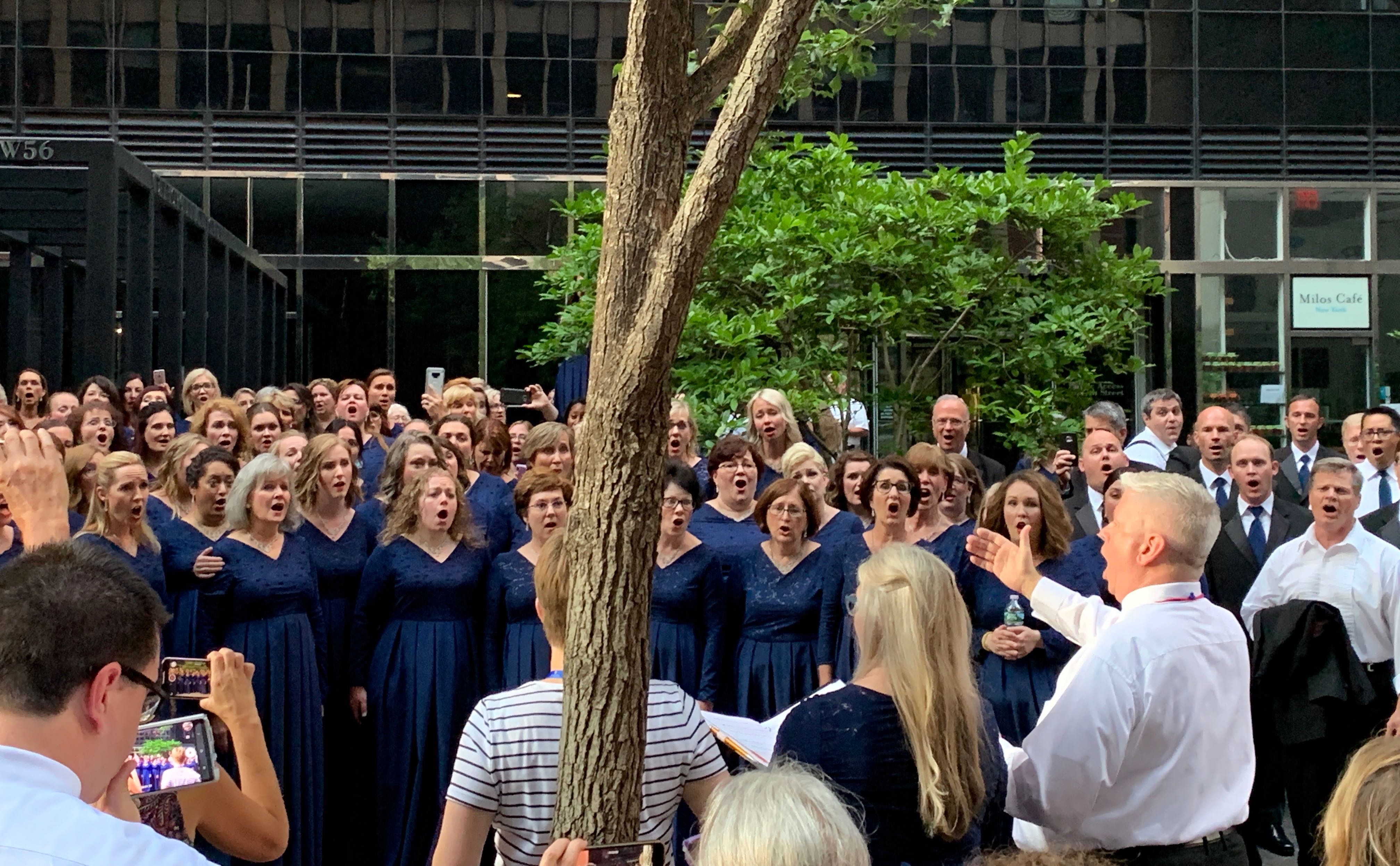 People flooded out of the theatre district as the lack of power interrupted all of the plays.  Hotel guests were evacuated onto the streets. With elevators not working, patrons could not get to their rooms. Later on, the streets were black with only the headlights of honking automobiles to light up the avenues.  Traffic signals were not working and so you can imagine the chaos. Merchants stood at their store entrances as armed sentinels with baseball bats protecting their livelihood.  It was a serious.
With much of upper Mid-Town Manhattan without power we wondered how we were going to make it back to New Jersey.  Our cell phones were running out of power.  We both turned them off saving them for an emergency, but we were in one!  We were hungry and needed some water.  We ducked into the lobby of a small hotel only to find it crammed with people sitting all over the floor waiting for word on when power would resume.  Everyone was frozen in time.
We were fortunately able to buy a bottle of water.  The hotel's registers were down and so they had no access to change, but we didn't care.  Amazing what you will pay when you need a drink.  We walked countless blocks south and finally found the PATH train operational back to New Jersey. With the other trains not working, the PATH train was packed.  Other than my time in the Philippines, I have never seen so many people crammed into such tight quarters.  It was hot and stuffy and yet the New Yorkers had wonderful spirits.  What a crazy, but amazing evening we will not soon forget.
The next morning, we were off on a church history tour of the early sites of The Church of Jesus Christ of Latter-day Saints.  We traveled to Sharon, Vermont to the 1805 birthplace of the young Prophet Joseph Smith.  This was a remarkable place.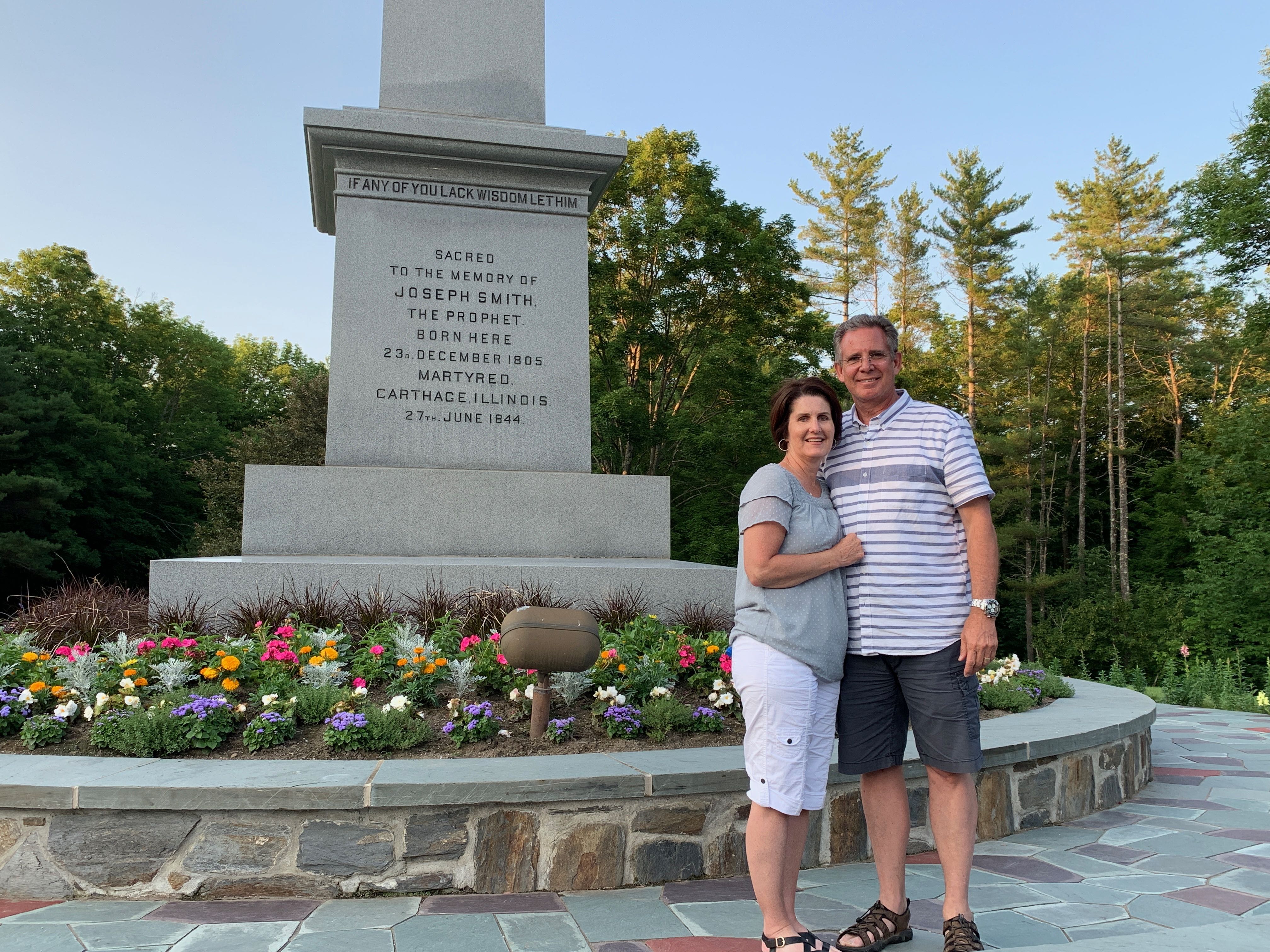 It's not possible to convey the feelings we felt or the wonderful things we learned.  We then visited Palmyra, New York and the range of famous sites like the Smith Family Farm, the Sacred Grove, the Hill Cummorah, and the E.B. Grandin Historic Book of Mormon Publication Site.  I had read about these places, but being there helped me put the history in context.  Each site was a wonderful experience.

Seeing sites on the Smith Family Farm and especially the Sacred Grove left an impression on me that was most meaningful.  We also visited Harmony, Pennsylvania and the Aaronic Priesthood Restoration site and of course the Susquehanna River.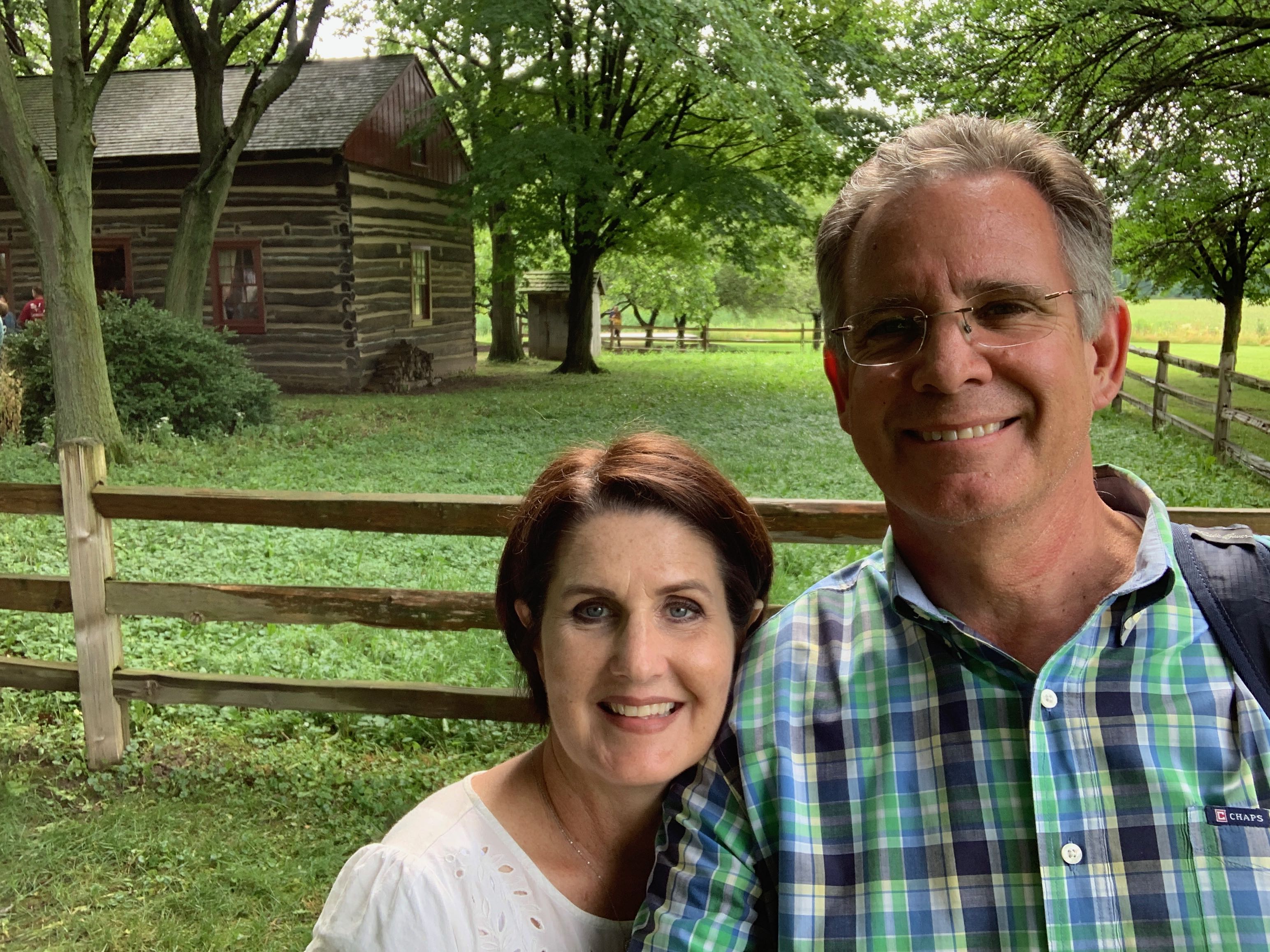 We visited the Peter Whitmer Farm (above) where the church was organized on April 6, 1830.  Then we were on to Kirtland, Ohio after squeezing in a stop at Niagara Falls.  The bikes proved a great resource at the Falls allowing us to see the whole park in a short period of time.
Enjoy the video!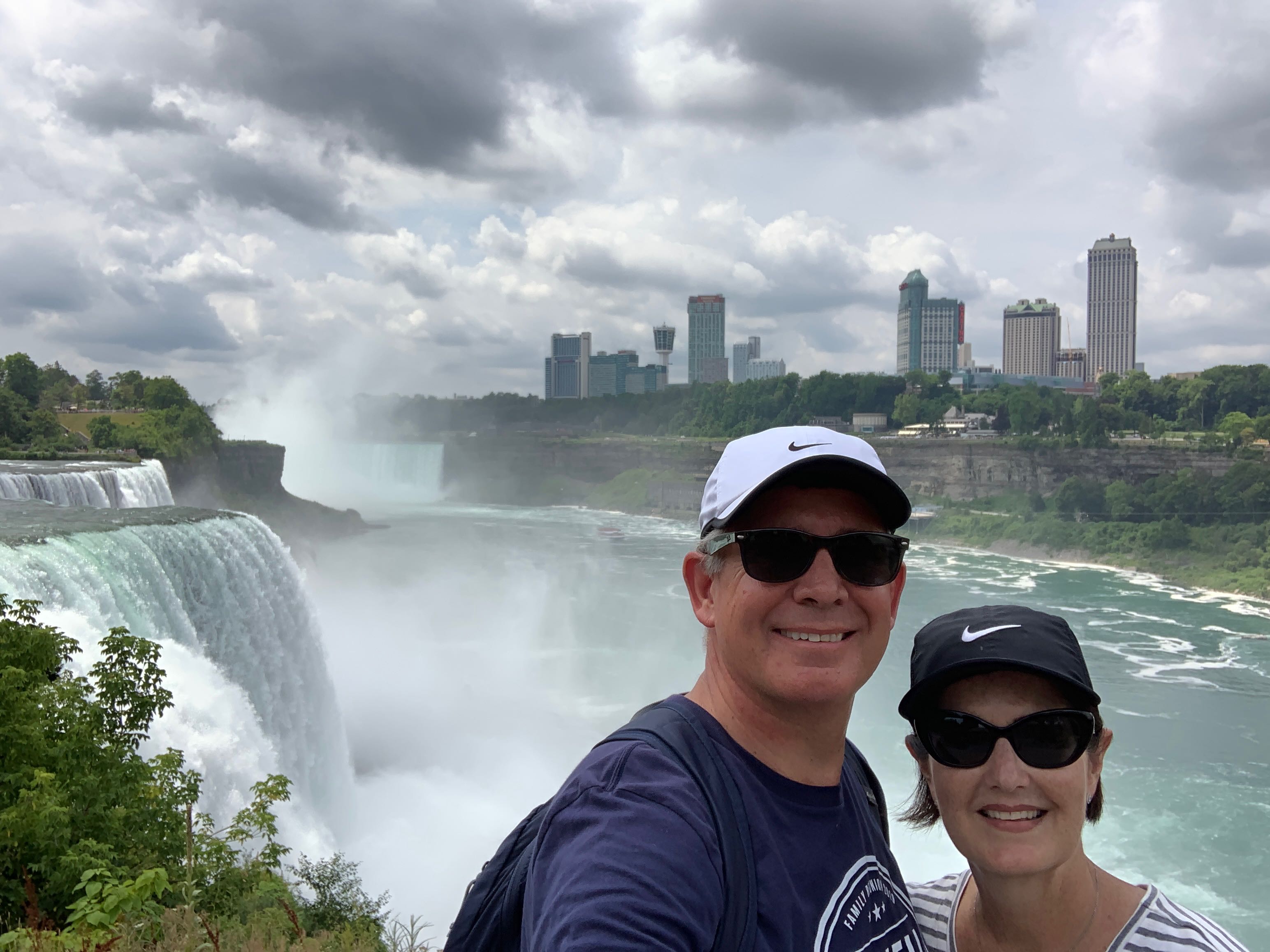 Kirtland, Ohio is the place of the first LDS temple (below) in this dispensation.  Kirtland is known for being the early headquarters of the Latter-day Saint movement from 1831–1837 and is the site of the first Mormon temple, the Kirtland Temple, completed in 1836.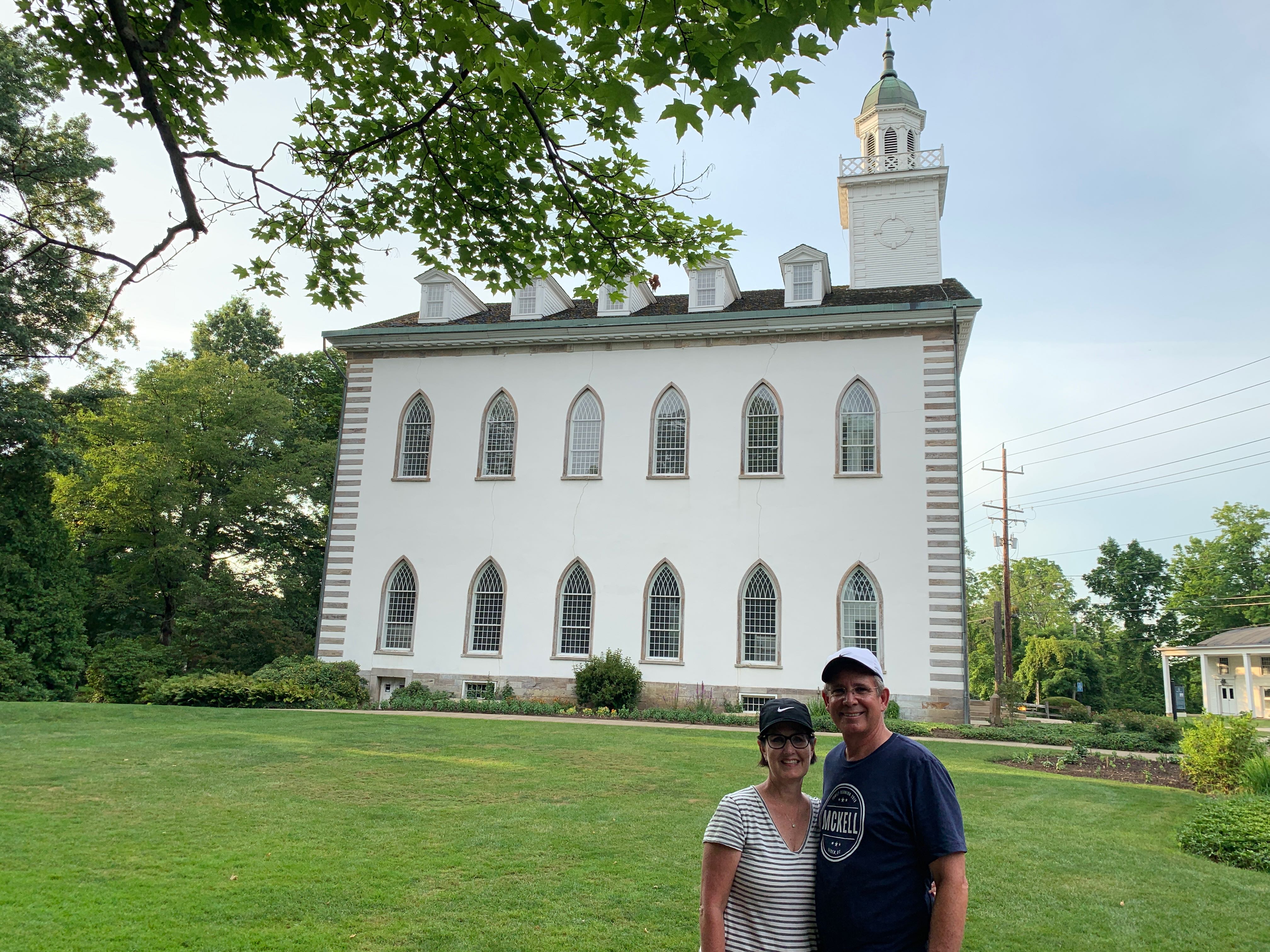 There are about 200 temples across the world today. These are not structures where congregations meet for Sunday worship, but rather where sacred ordinances are performed for the living and the dead.  Of course, there are probably 15,000 Stake, Ward or Branch church buildings throughout the world where 16.3M members worship each Sunday.  Amazing what has happened in nearly 200 years.
From Kirtland we traveled to Independence, Missouri and spent time at Liberty Jail and various other church sites.
Our trip across the country and back was memorable.  Not knowing what each day would bring, we kept our arrangements flexible and only scheduled ourselves a couple days out.  We were fortunate to find a friendly Walmart parking lot when we could not find an RV park.  We always felt safe, met some wonderful people and had an enjoyable time.  We took hundreds of photos and loved every moment.
We took a breather in the month of August only to have late September bring a big surprise.
My son Aaron, also bit by the old car bug, had been on a casual quest to find another 1965 Ford Falcon Sprint, like he had in High School.  We sold the Falcon back in 2007, while Aaron was on his church mission in Spokane, Washington.   His High School Tennis Coach had bought the car, held it for a few years and then sold it, but we didn't know to whom.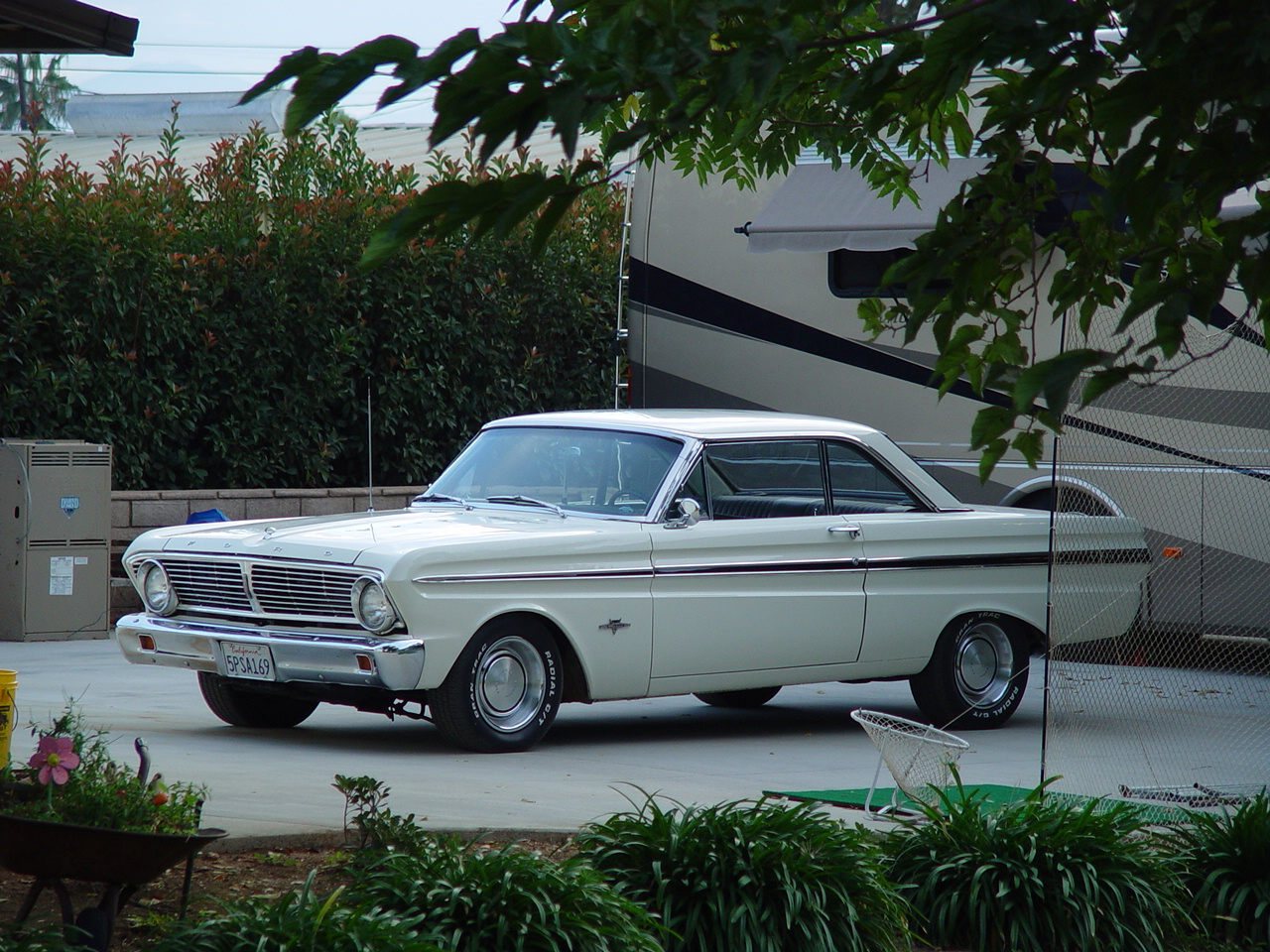 Being on the look out for a couple years, Aaron sent me a "for sale link" to a 1965 Ford Falcon in Brooklyn, New York.  We began evaluating the car like we have done hundreds of times before.  The Brooklyn car was the same color, but had a completely different motor and transmission.  One thing led to another and to our shock and surprise we determined that this car, on the other side of the United States, was Aaron's exact High School car from some 12 years before.  Unbelievable!  By slowly comparing old 2005-07 photos with the "for sale" photos, Aaron, Austin and I finally made the match.
We later found out that his Tennis Coach sold the car to someone in Connecticut and then Gene, the owner in Brooklyn (pictured below with Aaron) bought the car holding it for seven years. The car had a completely different motor and transmission than Aaron's original car, which initially threw us off.  The shear randomness of the whole experience is still hard to  believe.  If you are a car guy, who doesn't want their old high school car back?  I wish I could find that red 1969 Mercury Cougar Convertible I had back in the day.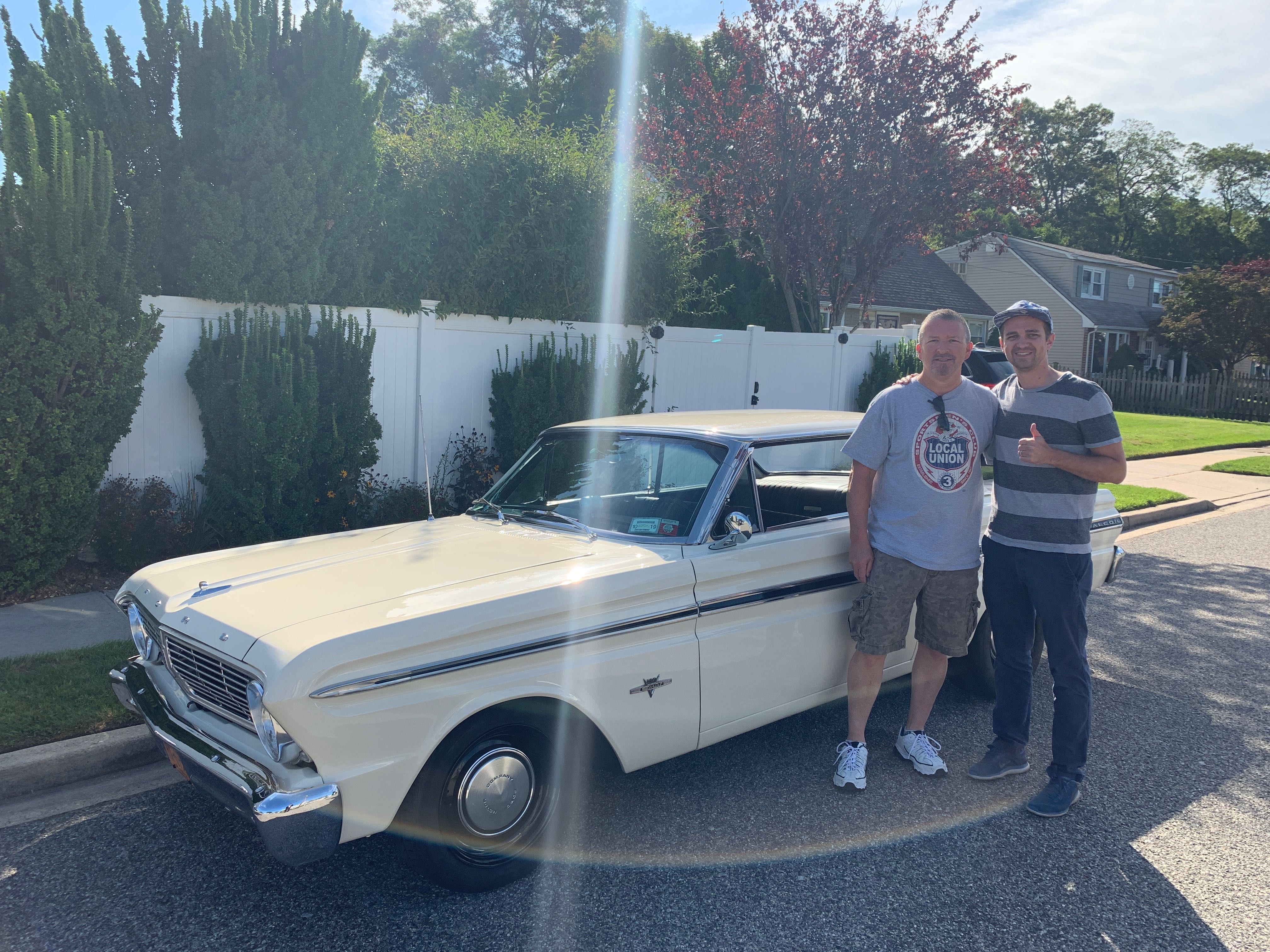 Confirming its identity, Aaron and I took an immediate red eye to New York and bought the car.  The Connecticut owner re-sprayed the car Ford Wimbledon White and Gene, the Brooklyn owner, did a ton of work on the running gear. I am not sure you can understand what it's like to find your original high school car and then travel with your son to have this experience.
It was a trip of all trips!
We had planned to drive the car to Indianapolis and leave it with a friend for loading onto an auto transport for California.  In the process, we broke down in western New Jersey and through a sequence of providential circumstances, that I will save for another blog post, we finally got the car back to the west coast.  The heavenly light on the photo tells the story. This fun little car has brought more smiles and chuckles over the last few months than I can recall.  More people have been left amazed saying,
"I can't believe you found your high school car!"
Here I am in Fresno, California with Ford and Eleanor, Aaron and Caroline's two oldest children.  As you can tell, they are excited about this new addition to the garage.  The bird is finally home where it belongs.  Aaron and Caroline are doing great and have announced they are expecting a new baby in 2020.  Eleanor, Ford and Rosie are excited for this new addition.  Congratulations Aaron & Caroline!  Aaron is still working at Veater Financial as a Financial Consultant and in-house CPA.  He and Caroline are quite busy.  With number four on the way their busy lives will only continue.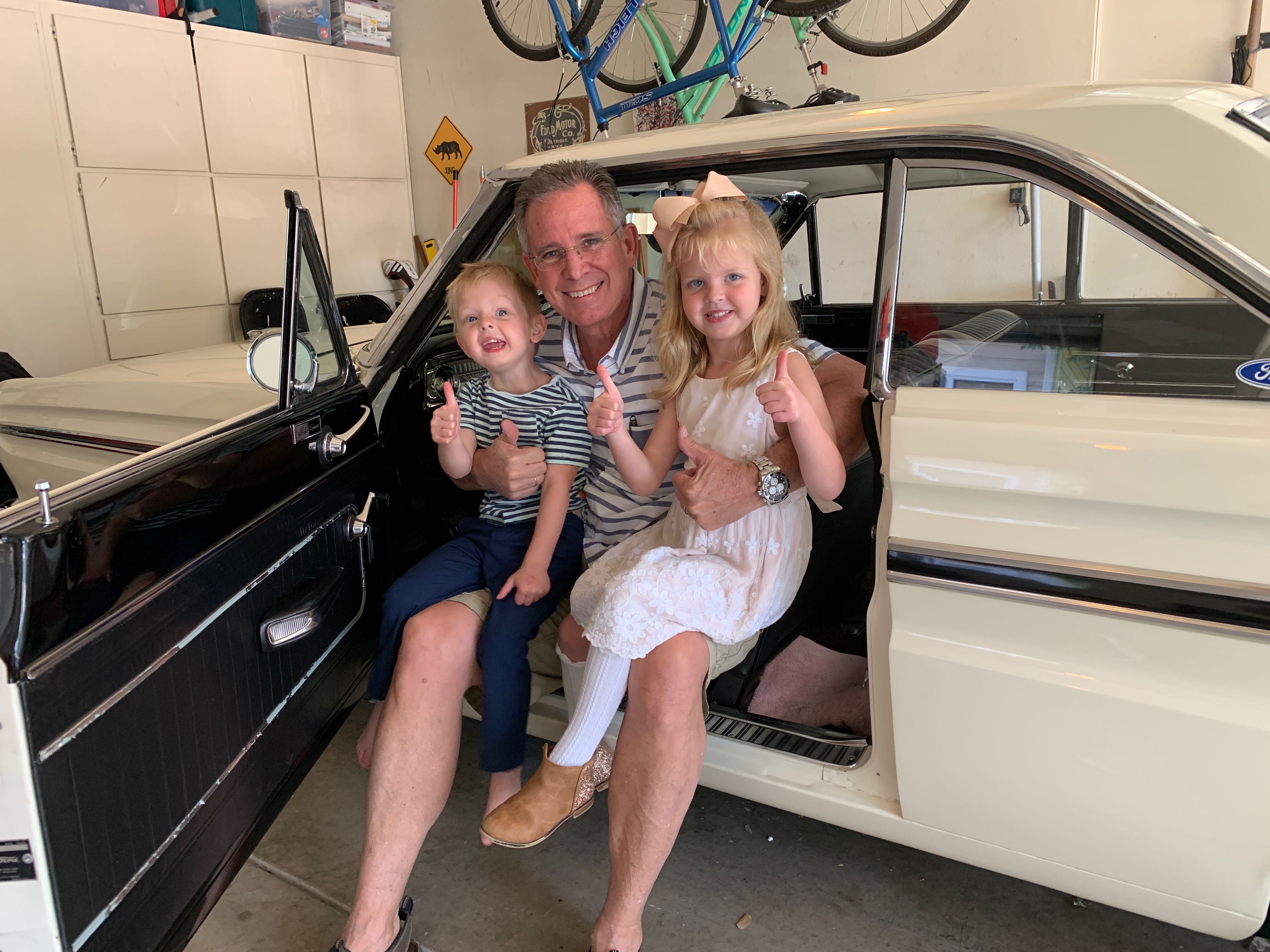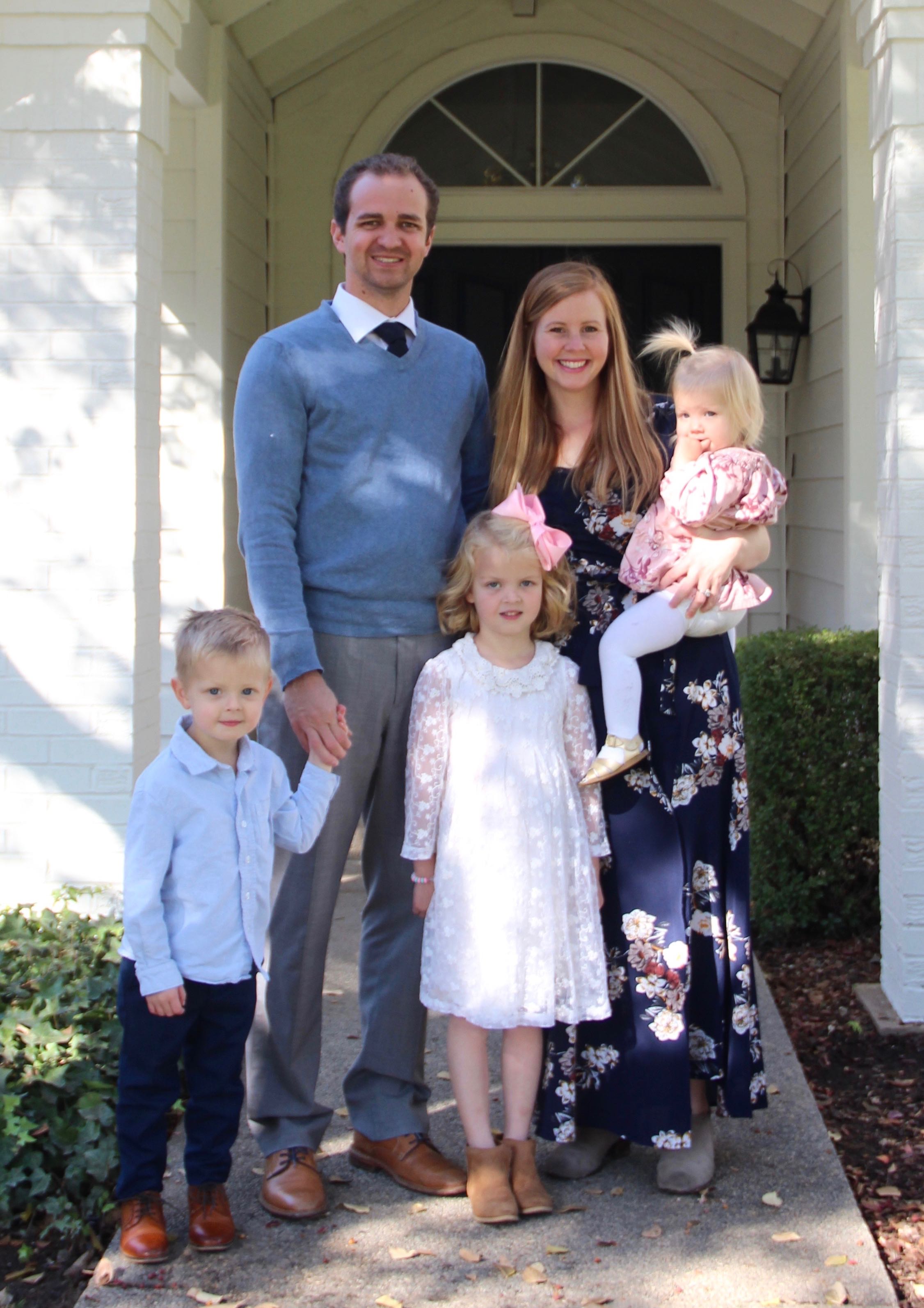 You would think that our lives would start slowing down, but it was not to be.  On November 20, 2019 Adam & Christy welcomed a new baby boy into their home. His name is Wade Allen McKell.  What a blessing.  Molly and Kage now have a new baby brother to love and adore.  The grandchildren count is now eight with two more coming next year.  The current score is: Girls 4, Boys 4.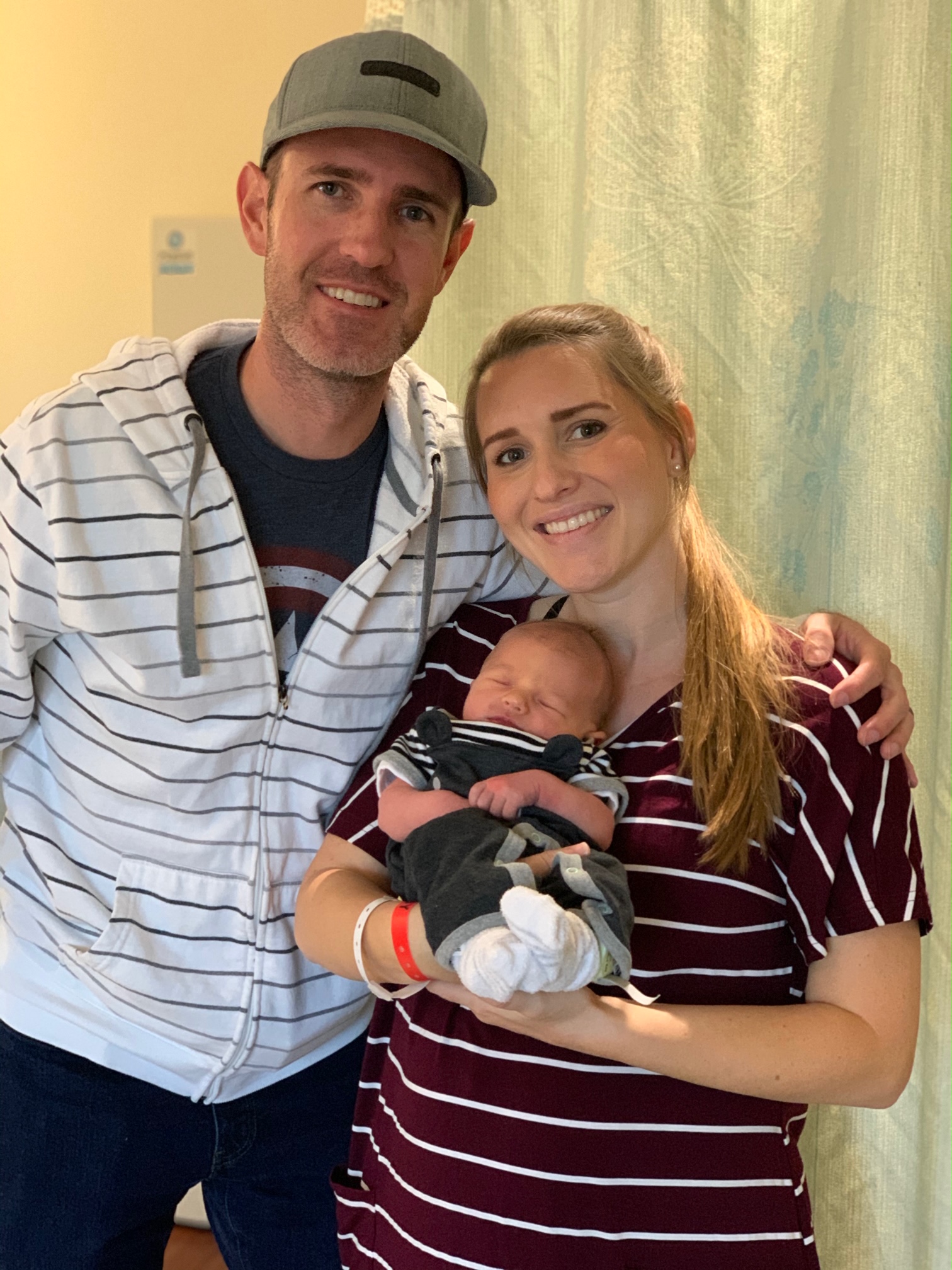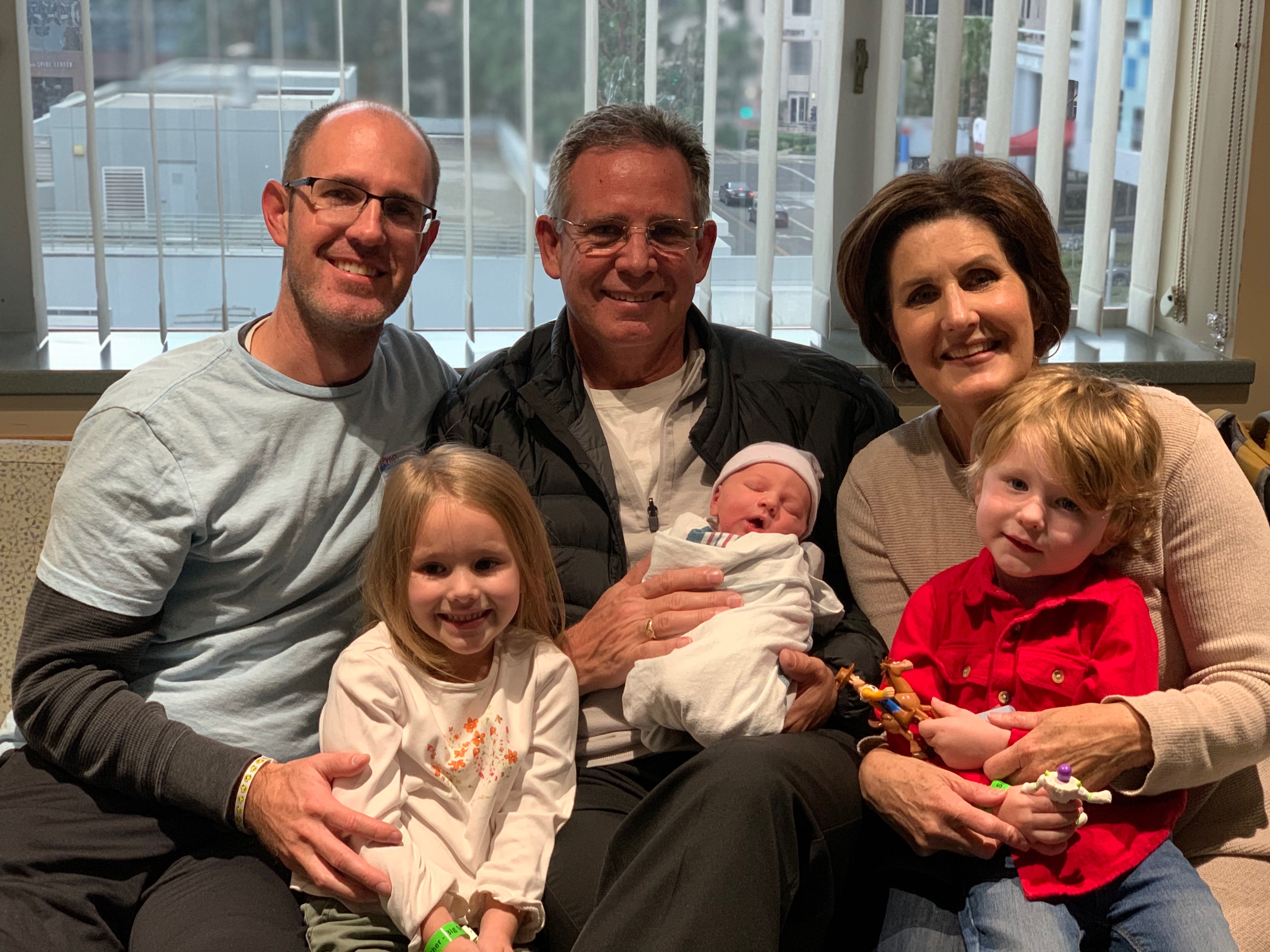 You made it to the end of our first digital Holiday Letter!
On a final reflective note, I have been studying and pondering on the topic of discipleship this year.  Such a wonderful, but difficult quest to follow the master Jesus Christ.  Working to acquire His attributes is a noble cause; but in the end, its journey is really about the desires of our hearts.  Its pursuit centers in our inner yearning to be better and to do better.  Repentance is at its core as we seek to change and embrace His atonement each day.  Since I have a lot of rough edges, this remains daunting; but with faith each day, we can create better tomorrows.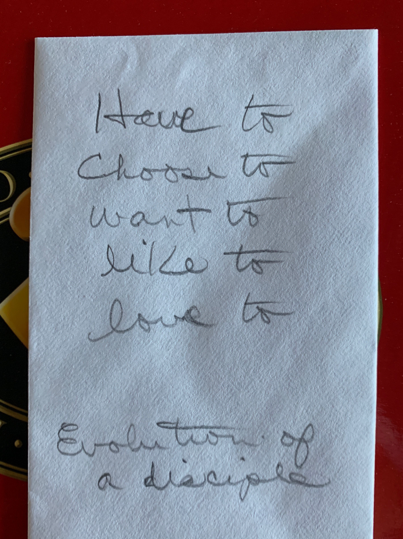 On a recent trip to Utah my mother had jotted down a some thoughts on the back of an envelope.  I hadn't been there more than a few minutes when she felt impressed to share them with me.  Her notes about discipleship mirrored my recent pondering. As our hearts change, our discipleship evolves from an attitude of "Have to" to "Love to" in our personal journey.  How did Mom know her recent thoughts were aligned with mine?  Well, mothers always know!  I snapped a picture to remember the moment.  Oh, the serendipities of life…
Susan and I express our gratitude to all our friends and loved ones around the world. Your goodness inspires us to reach for higher ground each day.
From our home to yours, Merry Christmas and Happy New Year!
Mark & Susan McKell
PS – Don't forget to subscribe for next year's holiday letter.
Let's stay connected:
Mark – mark@mckellpartners.com
Susan – susan@mckellpartners.com