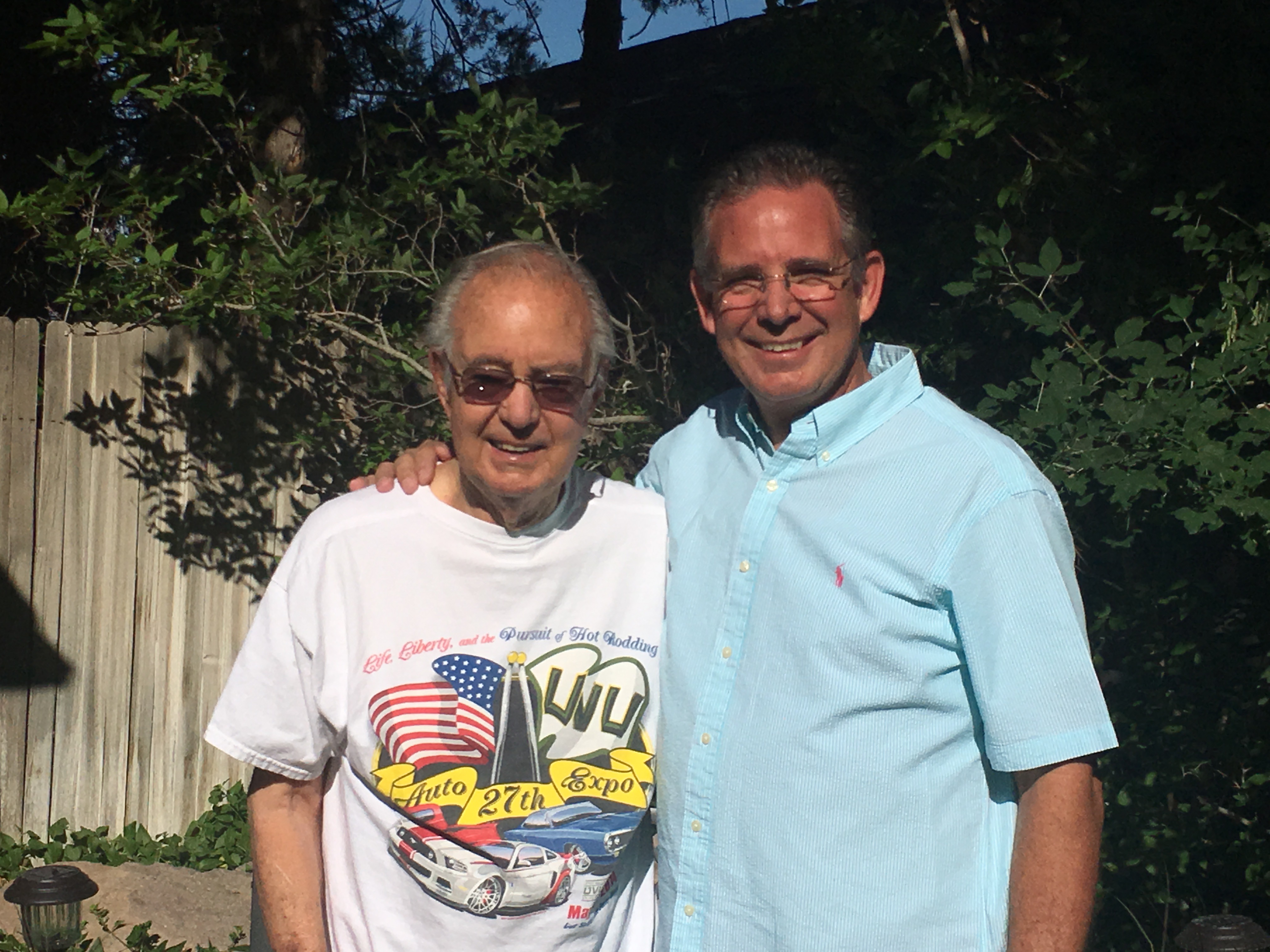 Happy Father's Day!
I found myself at that same familiar spot a few days ago, reading Father's Day cards at the local grocery store.  Maybe you have stood there as well; reading an array of cards hoping to find the perfect one whose words described your feelings for a loved one.  Read one, put it back.  Read another, put it back.  This was my frustrating experience, over and over again.  I finally found a card, but to be honest, I still felt undecided in the check-out line.
I left the grocery store and with the card safely tucked away, I began to wonder how I might more fully convey my thoughts and feelings for a person who has made such a tremendous difference in my life.  Clearly, a card was going to be inadequate, so I began to think how I might capture my feelings this year.  Then the answer came.  I would pen a personal blog post capturing much of the wisdom I have gleaned from my father over the last 58 years.
As I began to reflect, my memory of his words on so many occasions and circumstances poured forward.  So many historical nuggets of fatherly wisdom pressed upon me.  I could tell you story after story of how my father taught key truths and reinforced them in my life.  The memory of his words has brought deep gratitude as I've felt the impact of his empowering advice.  I realize now that his counsel is mirrored not only in my own life but in the lives of my children and grandchildren.
Here are eight nuggets of wisdom from my father, Eldon C. McKell.
Nugget #1:  A job worth doing is worth doing well
For many, this phrase may be familiar, but Dad and I worked together on so many tasks and projects that nugget's call for excellence became a common theme in my life.  He not only told me that excellence was important, but he showed me in everything he did.  His example was illustrative of a man who believed in this charge and who has always lived life "all in."
Nugget #2:  Set goals and be accountable to yourself
I learned at a young age to be an avid goal setter and it has stuck with me ever since.  My father was the one who got me started setting goals.  The concept of goal setting was prominent in our home.  Casting one's mind into the future and selecting an important challenge or project you wanted to engage, and then writing it down as a personal quest was an exciting prospect.
Depending on the time of life, our goals might be related to our grades at school or achievements on the ball field or other personal pursuits.  It might be how much money we were trying to earn or save or countless other purposeful aims.
One year, Dad told us that our goals were so important that he was going to take them down to the bank and put them in the vault.  I remember being captured by that for weeks.  "Wow, my goals in a bank vault?" I mused.  Dad worked as a Corporate Manager in the banking industry.  We had all been to the bank to see him at work and had seen the big vault where all the money was stored.  As a child, this was fascinating.
Sure enough, true to his word, Dad took our goals and put them in the bank vault for safekeeping, only to be retrieved at the end of the year.  During that session, we could evaluate how we had done and check our own progress.  This became a family routine each January and only elevated the importance of goals and goal setting in my life.
Nugget #3:  Set important life priorities
I can remember as though it was yesterday, sitting as a young 12-year-old next to my dad at his large mahogany desk as he explained to me the importance of having life priorities.  One by one he reviewed these priorities with me as he wrote them down on a yellow pad.  God, family, country, career and then other pursuits.  I can still hear him say, "Mark, your covenants, and commitments to your Heavenly Father and your family are most important.  Always make Him and your family the first priorities in your life."
He then spoke urgently to me about my family commitments but explained that one day I would have a family of my own and my commitments to them should be paramount.  I remember him urging me to keep these priorities in order and that if I would do so I would avoid much pain and sorrow in my life.  Oh, how this has been wonderful counsel in my life.
Nugget #4:  Be anxiously engaged in a good cause
When I was 17 years old, I was asked to serve on the Stake Youth Committee of the San Bernardino California Stake of The Church of Jesus Christ of Latter-Day Saints.  An LDS stake typically comprises 6-10 wards.  Wards normally include about 400-500 church members, so this assignment was to lead and serve about 300-400 teenage youth.  Each year there would be a spiritual theme to guide us in our efforts.  That year's theme was taken from a book of scripture called the Doctrine & Covenants, Section 58:26-28:
26 For behold, it is not meet that I should command in all things; for he that is compelled in all things, the same is a slothful and not a wise servant; wherefore he receiveth no reward.
27 Verily I say, men should be anxiously engaged in a good cause, and do many things of their own free will, and bring to pass much righteousness;
28 For the power is in them, wherein they are agents unto themselves. And in as much as men do good they shall in nowise lose their reward.
One early morning, Dad dropped me off for high school on his way to work.  It's a vivid memory because my dad never took me to school.  This day was different as my car was down with repairs.  On the way to school, he asked me if I understood the new Stake Youth Theme.  He specifically asked if I understood what it meant, "to not be compelled in all things," "to be anxiously engaged in a good cause" and "to be agents unto ourselves."
Arriving at school much earlier than was needful, Dad parked out in the distant end of the student parking lot and with his scriptures in his lap explained to me the wisdom in those passages.  I will never forget this moment.  It was as if time stood still.  I can recall my feelings and thoughts from that moment as if it were yesterday.
This conversation changed my life in a profound way.  These passages are some of the most important life principles I have ever learned, and I learned them from a loving father. Their content speaks to the importance of personal initiative, accountability and in being personally engaged in good and worthwhile causes.  They continue to be an inspiration in my life.
Nugget #5:  The best place to find a helping hand is at the end of your own arm
My dad has always been a very optimistic, "you can do it" kind of person.  He believes in personal responsibility and self-reliance.  He used to say, "the best place to find a helping hand is at the end of your own arm."  His belief in the capacity of the human spirit was infectious.  When I would come to him with a tough task or something I wasn't sure I could accomplish he would often say, "you can figure it out!"  I tended to doubt myself and yet his belief in me, that I could do anything I wanted to do, has strengthened my resolve on so many occasions.
So often we can be the answer to our own problems.  We can work it through and resolve what's troubling us.  We are each blessed with God-given equipment and have the capacity for greatness.  Dad believed this and his constant encouragement has lifted me to higher ground.  Oh, I could write more on this topic!
Nugget #6:  You have two years to serve and a lifetime to think about it
I made the decision early in my youth to serve a two-year mission for The Church of Jesus Christ of Latter-Day Saints.  When I was 19 I was called to serve in the Philippines Manila Mission.  It was an experience that continues to pay dividends in my life.  Just before boarding at the airport, my dad took me aside and said, "you have two years to serve and a lifetime to think about it."
What was he saying to me?  My mind reeled on the plane as I searched to understand. He was speaking about the pain of regret.  He was encouraging me to give my best.  He was challenging me to get "all in," to drink deeply of the experience and to not waste a moment.  The second verse to one of my most favorite church hymns, "Improve the Shining Moments" is illustrative.  May these lyrics help guide your course to use each day wisely.
Time flies on wings of lightning;
We cannot call it back.
It comes, then passes forward
Along its onward track.
And if we are not mindful,
The chance will fade away,
For life is quick in passing.
'Tis as a single day.
Nugget #7:  Keep the Holy Ghost involved and you will be just fine
Amidst the craziness of life, I still check in with my dad quite often. We were on the phone not too long ago and he began to do what I have learned he typically does when we chat.  I have no other way to explain it other than he interviews me.  It's not a formal thing, he simply starts asking me about my family, then my church calling, then my business, then moves to projects around the house and then we chat about whatever car project I am working on, then finally on to how I am doing personally.  I love these calls with him.
Over the last few years, it seems my life, at almost every turn, has been as full as I can handle.  In every way, there are challenges and struggles, dilemmas and trials and my share of imponderables.  Don't get me wrong, I am enjoying the journey, but most weeks everything seems to be in commotion with key, consequential decisions at every turn.
At the end of our recent call he quietly paused, longer than seemed normal, and then simply said, "Well…keep the Holy Ghost involved and you will be just fine."
I hung up the phone with the weight of his words pressing upon me.  I grabbed a yellow pad to write them down.  Its simplicity was riveting.  Here I was trying to control all the facets of my life, wrestling with a myriad of micro decisions and choices, and yet he was confidently saying, "Listen to the still, small voice of the Spirit and you will be just fine."  He was trying to help me understand the need to more fully seek God's help in my life and to understand His will.  If I would do this and follow His promptings, I would be okay.
Sometimes, as a rugged individualist, I fall into the trap of trying to carry it all alone.  Have you been there?  I needed a heaven-sent reminder on that day and my dad was an insightful messenger.
Nugget #8:  Do you know how much I love you?
I can't think of a more important personal need than to feel loved.  I have always felt an enduring love from my father because he always asks me a simple question, "Do you know how much I love you?"  This is different than simply stating, "I love you."  Why?  Because his question always seemed to solicit a tender conversation of how he felt about me.  For this, I am so grateful.
When my kids were young I probably went overboard telling them I loved them.  I remember one day quizzing my 7-year-old son Aaron with the  same question, "Aaron, do you know how much I love you?"  He quickly replied, "Well, Dad, you've told me five times today!"  I still chuckle when I see that blonde, curly-haired little boy in my mind's eye.  He now has a family of three and is a wonderful father.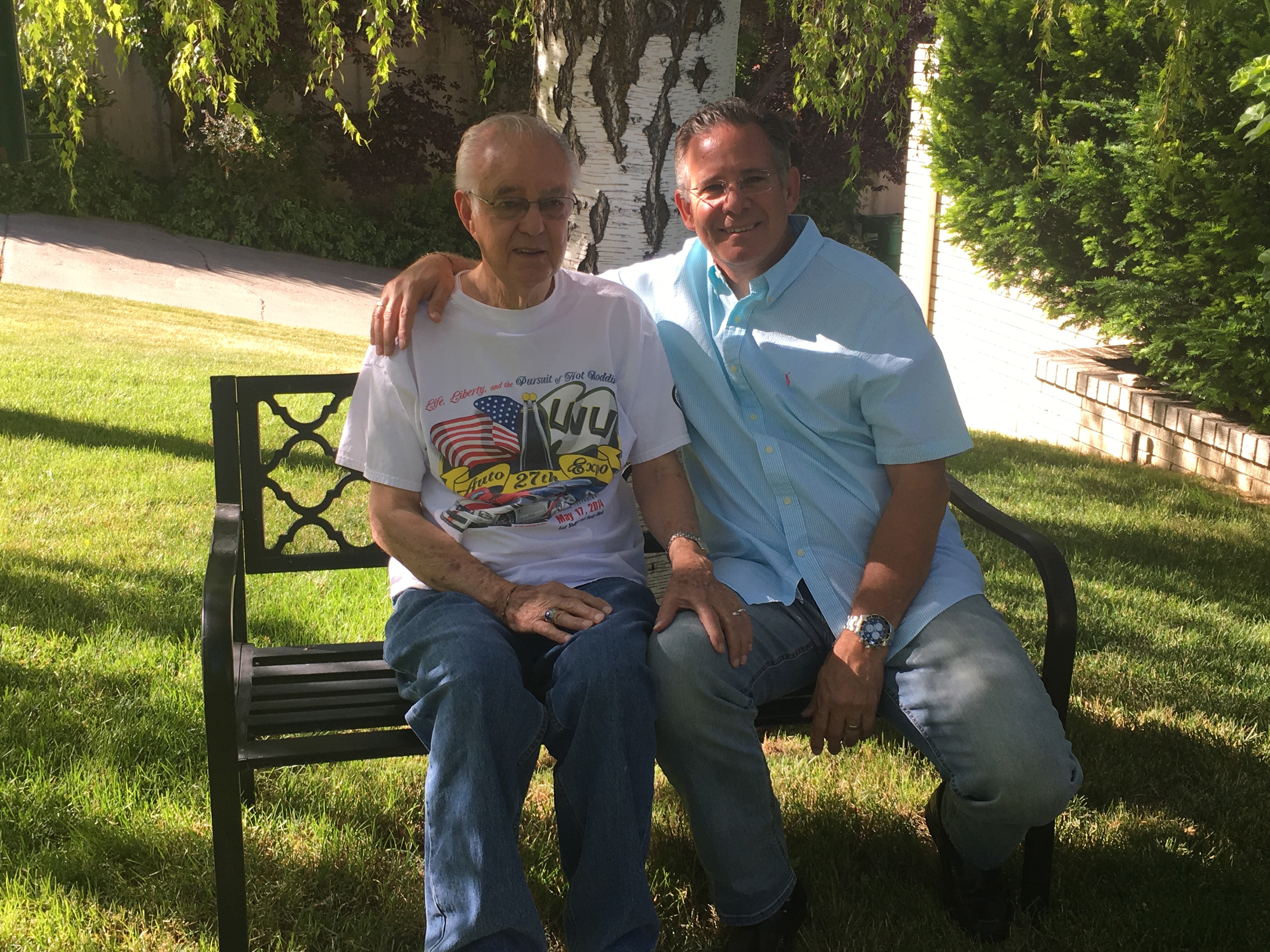 I could share many more nuggets of wisdom from my father, but I will leave it at eight.  I share these thoughts to communicate my sincere love for him and for the wonderful role he has played in my life.  Words are difficult mediums to convey such tender feelings.  I love him more than he will ever know.  I tell him often, but the words don't seem to capture my heartfelt gratitude for the impact he has had on me, even to this day.  Happy Father's Day Dad!
I also commemorate all the great fathers in the world and express my gratitude to them for the strength they are to families, to neighborhoods, to communities, and to our nation.  We need more actively engaged fathers!  I work every day trying to be the best father I can.  I pray fathers may be anxiously engaged each day to be the best they can be; their contributions will be felt for generations to come.
Happy Father's Day to all!